Director talks corruption, near-death stunts and sequels following well-received TIFF screening.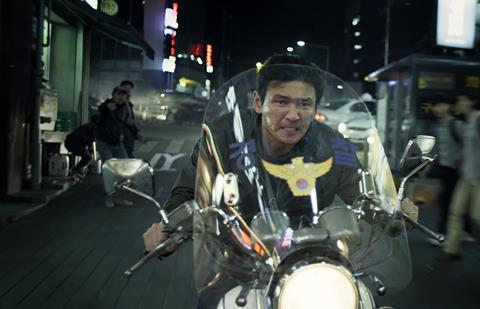 Ryoo Seung-wan brings successful action-comedy Veteran to the Toronto International Film Festival, giving fans of his scintillating brand of action film-making much to cheer about.
Taking more than $80m to date at the Korean box-office and garning more than 10.8m admissions for CJ Entertainment, Seung-wan's film, about a detective hunting down a charismatic young crime-lord, is one of the country's highest-grossing films, further giving testament to the director's position as one of Korea's current cinematic heavyweights.
The writer/director sat down with Screen at TIFF to talk corruption, comedy and high-kicking stars.
Following on from your 2010 film The Unjust, why did you decide to again focus on corporate corruption in Veteran?
After the Cold War ended, Korea's economy grew quickly. But because families had been suppressed financially for so long, parents were suddenly telling their children to go out and make money in whatever way they could. While this has brought a lot of success to Koreans, it has also brought more corruption.
Like The Unjust, I wrote the script for Veteran based around similar crime incidents that have taken place in Korea. When I hear about these cases, it makes me furious so I get revenge by making a film about it. Seeing how well the film has done in Korea, it is clear other Koreans feel the same way.
Is the Korean government doing enough to tackle these crimes?
All countries that operate on capitalism have these issues. I think the question is: "Are the people that are committing these crimes being judged legally?" The real judgement should happen in a trial. But our legal system is still steps away from this.
In this film, there is corruption on many different levels. I wanted to emphasise that anybody can do bad things. Lead police detective Seo Do-cheol [played by The Unjust's Hwang Jung-min] isn't perfect - he has character flaws just like Jo Tae-oh, the tyrannical businessman he is investigating [played by Yoo Ah-in]. I wanted to create multi-layered characters that the public can relate to.
It's a high-octane action adventure full of intricate car chases and action set-pieces. Is it your biggest production?
My last film The Berlin Files had a bigger budget. Most of my films appear to be big budget, but since I started making independent films, I know how to make films look bigger in scale than they really are. Our production schedule was 72 days, and the budget was between $6-$7m.
Compared to Hollywood, this is minimal for an action film. I know how to cut corners. For example, in the final chase scene, one of the actors is driving a Mustang. We had two used cars. When one of them crashed, we rebuilt it and sold it.
You're working again with Hwang Jeong-min, who also starred in The Unjust. What was it like to collaborate together on this film?
As I make more films, I am realising how important casting is. When writing, I now try and visualise who might be right for the role. And before officially casting each of the roles, I try and meet with each actor to thoroughly discuss how their character might be portrayed. I feel very comfortable working with Hwang Jeong-min. He knows how I work, and has a lot of his own ideas.
Referencing Jang Yoon-Ju as the tough Miss Bong, your female characters are very strong-minded. Is that a trait of Korean women you know?
Korean women are strong. I always think women are smarter than men because the world is led by mothers. And I like films with great women in them. I also had to deal with my wife at the end of the day so I had to make sure to portray strong women.
What types of techniques were used in the fight sequences, and how did you choreograph the intricate scenes?
I work closely with my stunt choreographer, Jung Doo-hong, along with the action and arts teams. We try and get the actors to do as many of their own sequences as possible. Any actor that works with me knows what he's in for. For this film, we used basic slapstick action-comedy to warm up the audience for the more violent scenes at the end. Though to keep it light all the way through, I never lost sight of the humour.
Actors are required to train, and be able to comfortably use martial-arts techniques such as ju-jitsu and aikido. The sequences are choreographed and rehearsed before we start shooting - I just have a look to see if any final changes need to be made before we try them out on set.
Was anyone hurt on set?
We try to rehearse as much as we can beforehand. But like any of these actors or stuntmen, they take their jobs seriously and like to go for it. And as a director, I always want more. So yes, there have been accidents.
A driver on a police motorbike missed his jump cue by a fifth of a second, and was sent flying, hitting his jaw on the edge of the motorbike. This is the take we also used in the film so audiences actually see a real accident. He nearly died but the first thing he asked me at the hospital was "Was it okay?" That's the level of daredevil I am working with.
What projects are you working on next?
I have a few projects in development. One is about a real-life account of Korean labourers trying to escape Hiroshima during World War II. For Koreans, it's a hurtful story. I am also trying to find writers to assist me on the scripts for the sequels to Veteran and The Berlin Files.