The full line-up of world premieres in Toronto's Midnight Madness programme, with details on each title including sales contacts.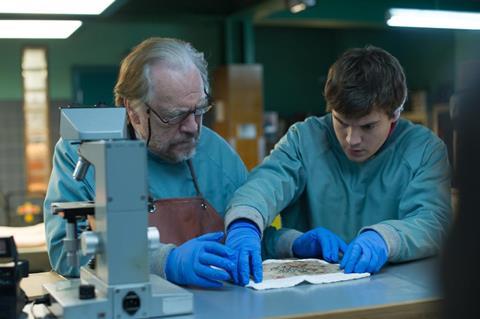 The Autopsy Of Jane Doe (US)
Dir Andre Ovredal
The English-language debut of Norwegian director Ovredal concerns a father-and-son coroner team (Brian Cox and Emile Hirsch) who, while conducting an autopsy on a beautiful, unidentified murder victim, start to unravel disturbing clues about her identity and what happened to her. Ovredal became an international sensation thanks to the 2010 mockumentary horror Trollhunter, which played Sundance's Midnight section. The Autopsy Of Jane Doe will be released in North America through IFC Midnight.
Contact: IM Global, info@imglobalfilm.com
The Belko Experiment (US)
Dir Greg McLean
McLean (Wolf Creek) directs a screenplay by James Gunn (Guardians Of The Galaxy); the result is a darkly comic horror thriller that pits US ex-pat office workers in a building in Sao Paolo, Brazil, against each other in a gruesome battle for survival. Anonymous announcements over the building's tannoy instruct the workers in a grisly kill-or-be-killed scenario. MGM and The Safran Company share the production credits, and the film was shot in Bogota, Colombia.
Contact: MGM Studios, swollman@mgm.com
Blair Witch (US)
Dir Adam Wingard
Director Wingard follows up his SXSW Audience Award-nominated feature The Guest with this sequel to the genre-defining The Blair Witch Project (1999). The original won a slew of awards including Award of the Youth at Cannes and the Independent Spirit Award for best first feature. This new film sees a group of teens head into the Maryland woods to find out what happened to the witch-hunting group from the original film, and the project was kept under wraps until Lionsgate announced it at this year's San Diego Comic-Con.
Contact: Lionsgate, lionsgate@lionsgate.com
Free Fire (UK)
Dir Ben Wheatley
After premiering High-Rise at TIFF in 2015, where it screened in the inaugural Platform competition, Wheatley returns to the festival with this thriller, which opens this year's Midnight Madness. Set in Boston in 1978, it sees a warehouse meeting between two rival gangs spiral out of control, and stars Cillian Murphy, Brie Larson, Armie Hammer, Sharlto Copley and Noah Taylor. Wheatley's long-time collaborator Andrew Starke of Rook Films produces. After its TIFF bow, Free Fire will close the BFI London Film Festival in October.
Contact: Protagonist Pictures, info@protagonistpictures.com
Headshot (Indonesia)
Dirs Kimo Stamboel, Timo Tjahjanto
Iko Uwais, the spectacular and indefatigable star of The Raid films, fronts what is billed as a "fast and furious actioner" from the Indonesian pair also known as The Mo Brothers. Uwais plays an amnesiac who washes ashore and is nursed back to health by a young doctor (Chelsea Islan), before his violent past inevitably catches up with him. The directors' previous film, crime thriller Killers, premiered in Sundance in 2014, before winning an honourable mention at Fantaspoa for 'best bloodbath'.
International contact: Nikkatsu Corporation, international@nikkatsu.co.jp
US contact: XYZ Films, info@xyzfilms.com
Rats (US)
Dir Morgan Spurlock
Rats promises to be even more horrific than bingeing on McDonald's, as Super Size Me director Spurlock serves up a feature documentary all about the dreaded vermin. Crossing the globe, the director looks at different cultures' methods of controlling, killing or profiting from the common rat in what he promises will be "a modern-day horror film". Spurlock's Warrior Poets produces with Submarine along with Discovery Channel, which has US broadcast rights.
Contact: Submarine, josh@submarine.com
Raw (Fr-Bel)
Dir Julia Ducournau
Ducournau's feature debut Raw (Grave) won the Fipresci prize after its premiere in Critics' Week at Cannes earlier this year. This France-Belgium co-production follows a reserved young vegetarian student vet who, after a gruesome carnivorous hazing ritual at college, finds herself developing a taste for flesh. Ducournau's blood-drenched examination of femininity and sexual awakening has drawn comparisons to the body horror of David Cronenberg.
Contact: Wild Bunch, obarbier@wildbunch.eu
Sadako Vs. Kayako (Jap)
Dir Koji Shiraishi
Chosen to close Midnight Madness, the international premiere of Shiraishi's film sees Sadako and Kayako, the vengeful spirits of horror franchises The Ring and The Grudge, face off in an epic supernatural battle. The film's origin lies in an April Fools' Day joke from Japanese studio Kadokawa that quickly went viral; realising its potential, Kadokawa and NBCUniversal Japan turned it into a film. Kadokawa released in Japan over the summer.
Contact: Kadokawa, suzuki-as@kadokawa.jp