Dir: Michael Bay. US-China. 2014. 165mins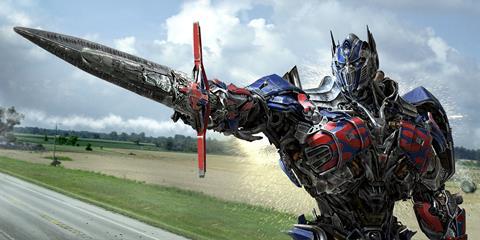 The fourth instalment of Michael Bay's big screen robot romp offers few surprises but an abundance of the series' familiar tropes in another marathon-length, narratively vapid action spectacular. Bay's trademark visual fireworks are as impressive as ever, while an all-new cast promises a new direction for what may become a second trilogy. Otherwise, it's business as usual for the Autobots and Decepticons, which based on past performance means a huge box office performance everywhere.
Bay overcompensates for his flimsy narrative and characterisation with a bombastic and visually aggressive aesthetic.
Three years after the Decepticons laid waste to Chicago, shady politician Harold Attinger (Kelsey Grammer) has commissioned special ops units to scour the country for outlawed Transformers. When Cade (Mark Wahlberg) and Tessa Yeager (Nicola Peltz), a father-daughter team of Texas scrap dealers, stumble upon a deactivated Optimus Prime, they are soon drawn into this brutal clean-up operation, as well as into the path of a rogue robot bounty hunter known as Lockdown.
With unscrupulous scientist Joshua Joyce (Stanley Tucci) close to launching his own line of engineered Transformers, using materials farmed from wasted Decepticons, Cade, Tessa and her no-longer secret boyfriend Shane (Jack Reynor) must convince the surviving Autobots that the human race is still worth saving.
After a hugely successful trilogy of films based on Hasbro's globally-loved toy range, Michael Bay returns once again to the Transformers series, this time boasting a whole new line-up of humans and a darker, more serious tone. Screenwriter Ehren Kruger puts a different spin on the central human relationship, replacing Shia LaBeouf's adolescent dating antics with a more wholesome father-daughter dynamic. As the improbably-monickered Cade Yaeger, Mark Wahlberg cuts a far more relatable action hero, an overly-protective single father juggling money problems, aspirations of becoming a great inventor, and a beautiful, precocious daughter he's terrified will make the same mistakes he did.
Yaeger's discovery of a derelict Optimus Prime comes moments before his home is invaded by gun-toting military types and the discovery Tessa is dating Shane, a local rally car driver. This triple threat shatters Cade's picturesque All-American world and forces him to create a real escape from his problems, one that might also bring him fame and success - if he manages to save the planet.
It is an interesting shift of gear for Bay, whose camera paid as much attention to his female leads Megan Fox and Rosie Huntington-Whiteley as to the hardware and pyrotechnics that perpetually cluttered his frame. This time out Nicola Peltz's 17-year-old Tessa is technically a minor, so while there's plenty of coverage of her impossibly short shorts, the film in general leaves its objectification to gleaming metal and fiery explosions. Thankfully, Bay and Kruger have also excised much of the racial stereotyping and goofy humour that proliferated the earlier films, but characterisation remains lightweight.
Bay has always displayed a flair for creative casting, attracting impressive rosters of respected character actors to ham it up alongside his more straight-faced heroes. Kelsey Grammer is suitably gruff and sinister as the political puppet master working all the angles "to keep America safe". Stanley Tucci is clearly having a blast as Joshua, whose research into "Transformium" (the creakiest elemental name since Avatar's "unobtanium") unleashes a new army of artificially constructed Transformers on society. T.J. Miller also gives a memorable turn as Cade's business partner-cum-sidekick whose comedic cowardice sets the action in motion when he attempts to collect the reward on Optimus Prime.
Regarding the Transformers themselves, Prime is gifted perhaps the film's most important emotional arc, while many of his cohorts are left on the sidelines. When Prime (again voiced by Peter Cullen) is discovered, he has lost all faith in a human race he once defended but has since turned on him. He is faced with a genuine internal conflict of greater substance than the motivations of survival or greed that drive his human counterparts. There are also strong thematic echoes of Ridley Scott's Prometheus in the film's opening and closing moments, suggesting the Transformers themselves may have a more organic origin, while also leading the series in an intriguing new direction for the inevitable 5th instalment. Prime's place in the universe has never looked more threatened.
Of the new robot characters, rogue bounty hunter Lockdown (voiced by Mark Ryan) proves most successful, scouring the Earth for survivors from both sides, working on the orders of their original extraterrestrial creators. A proficient killer, Lockdown is not only responsible for much of the gratuitous violence on screen, but is also equipped with a knowledge of history that far exceeds even what Optimus Prime knows about his origins or creators.
Fan favourite Bumblebee, an integral figure in the first trilogy, is largely ignored this time out in favour of teammates Hound, Drift and Crosshairs, notable as much for their distinctive designs as their voices (from John Goodman, Ken Watanabe, John DiMaggio). Age of Extinction's marketing campaign has relied heavily on the inclusion of the Dinobots, who materialise in the film's lengthy final act in the Far East, only to be rendered devoid of any personality or voice. The appearance of these one-time dinosaur lookalikes now appear informed more by Chinese dragons and Japanese kaiju than anything from the Jurassic era.
Most notable behind-the-scenes in Age Of Extinction is the involvement of mainland Chinese production partners China Movie Channell and Jiaflix Enterprises, which no doubt accounts for the visually impressive but narratively superfluous move to Hong Kong in the film's final third. There are also numerous instances of gratuitous product placement, not to mention the casting of Chinese superstar Li Bingbing (in a disappointingly lightweight role), and appearances of Chinese iconography from Beijing, Guangzhou and Wulong Karst National Geology Park. The script also slips in a pointed reference to China and Hong Kong's complex co-dependent relationship.
As is often the case, Bay overcompensates for his flimsy narrative and characterisation with a bombastic and visually aggressive aesthetic, complemented by a thunderous, relentlessly intrusive score from Steve Jablonsky, that often incorporates elements from Imagine Dragons' official rock theme song, Battle Cry. American dub step icon Skrillex has also been contributing sound design to help bring the Dinobots to life.
Tech specs are incredibly polished all round. Amir Mokri's lensing is an ever-exploding paintbox of lens flare, high contrast and dutch angles, and petrol heads in particular will delight in the procession of semi-truck cabs, muscle cars and concept sports vehicles paraded almost fetishistically throughout the film.
Even at a staggering 165 minutes, it is inconceivable that Age Of Extinction will be anything other than a titanic success in both domestic and international markets, especially in China. Pacing is a genuine issue, especially in the film's early stages, but for audiences seeking the same polished, vacuous grand scale spectacle that has become synonymous with both the series and its director, Transformers: Age Of Extinction gives the series a new lease of life.
Production companies: Paramount Pictures, China Movie Channel, Jiaflix Enterprises
Distribution: Paramount
Producers: Ian Bryce, Tom DeSanto, Lorenzo di Bonaventura, Don Murphy
Screenplay: Ehren Kruger
Cinematography: Amir Mokri
Editors: Roger Barton, William Goldenberg, Paul Rubell
Production designer: Jeffrey Beecroft
Music: Steve Jablonsky
Main Cast: Mark Wahlberg, Nicola Peltz, Jack Reynor, Stanley Tucci, Kelsey Grammer, Titus Welliver, Li Bingbing, Sophia Myles, T.J. Miller, Peter Cullen (Voice), Ken Watanabe (Voice), John Goodman (Voice), John DiMaggio (Voice), Mark Ryan (Voice)