Dir: Anouk Whissell, François Simard, Yoann-Karl Whissell. Canada-New Zealand. 2014. 89mins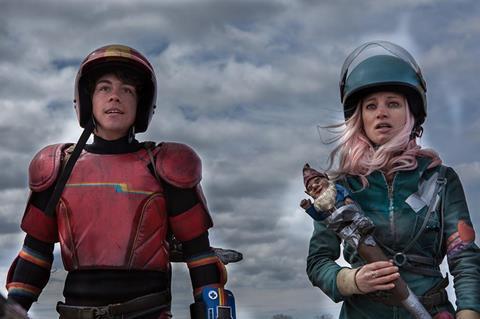 An retro homage to dystopian fantasy action films of the 1980s, Turbo Kid as the question, just what does an innocent teenage boy do when he wakes up on a slagheap in 1997 after the apocalypse? The orphan finds a costume from the 1980s and meets the only girl who survived, and they ride bikes into battle with enemies who lurk around every mound of rubble.
Turbo Kid is a wild enough burlesque.
Turbo Kid is a curiosity—a retro Canadian-New Zealand co-production set in the desolate near-future of 1997 and fueled with nostalgia for the films, music and fashion of the 1980s. It is unsparingly violent, yet the target audience for this Mad Max meets BMX Bandits blood-gusher seems to be under-17 youth.
Not everything adds up in that equation, there's plenty of gore to fill any gaps, thanks in part to executive producer Jason Eisener, whose Rebel With A Shotgun (2011) raised the bar and the body count for Canadian screen carnage. Turbo Kid, with its scavenger-nostalgia aesthetic that echoes WALL-E as it re-defines the recycling of an era's garbage, will try to make its mark on VOD with a young audience that was born after the 1980's.
The Kid (Munro Chambers), wakes up to find that his world is now piles of trash, patrolled by marauding gangs all garbed in scraps that celebrate the Mad Max look. Survival in this environment seems a lost cause, until he discovers the power of his turbocharged gun, another relic from the 1980s. Once he meets Apple (Laurence LeBoeuf), a platinum bubblehead whose post-apocalypse mood is blithe merriment, vicious conflicts with criminal gangs are only a bike ride away.
Like Hobo, Turbo Kid puts its protagonist against every other psycho with arms. Here those weapons are imaginatively improvised, like an exercise bicycle that draws out a victim's entrails. Other essential weapons here are the wisecracks, scripted by the three directors. Those comments are not tempered for a film that targets a young public.
The one-liners about dismemberment keep on coming, especially from Frederic (Aaron Jeffery), a Kiwi in Russell Crowe mold who dresses and smokes like the Marlboro Man – another homage to the 1980s?
Frederic's adversary, a bald thug with an eye-patch named Zeus, is played by 1980's stalwart Michael Ironside, who might help raise the median age of the film's audience. Venerable or not, the film's sadistic Falstaff can still slash a throat with the best of them.
Turbo Kid is a wild enough burlesque that the audience can ignore a few things that don't seem quite right. Apple, the smiling girlfriend, looks about twice the Kid's age – maybe one can't be too picky about choosing partners after the apocalypse. And it's strange that automobiles have disappeared from the grey rusted landscape, while a whole range of electric saws and blenders are around and powered for torturing.
Harder to ignore is that Turbo Kid, which was first made as a short, struggles to sustain its energy for 89 minutes of evisceration, despite a Stan Bush overture and a pumping techno score by the band Le Matos of Montreal.
Production companies: EMA Films, T & A Films, Epic Pictures Group, Raven Banner Releasing, Filmoption International, Telefilm Canada, New Zealand Film Commission, Quebec Tax Credit for Film and Television, Super Channel, Canadian Film or Video Production Tax Credit
International sales: Epic Pictures, sales@epic-pictures.com
Producers: Anne-Marie Gélinas, Ant Timpson, Benoit Beaulieu, Tim Riley
Executive producers: Patrick Ewald, Shaked Berenson, Jason Eisener, Jean-Francois Ferland, Catherine Nadeau
Screenplay: Anouk Whissell, François Simard, Yoann-Karl Whissell
Cinematography: Jean-Philippe Bernier
Editor: Luke Haigh
Music: Le Matos
Main cast: Munro Chambers, Laurence Leboeuf, Michael Ironside, Aaron Jeffery, Edwin Wright