Dir: Andre Techine. France/Italy. 2011.113mins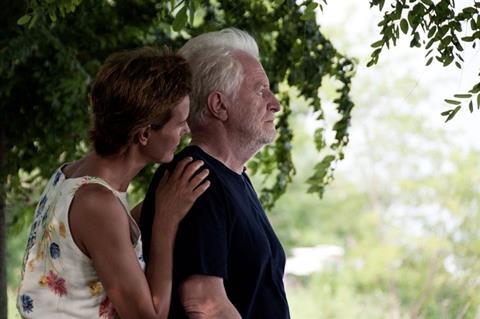 Auteur Techine's adaptation transforms Philippe Djian's novel into a dense, fast-moving film with the director's unique style and many of his involving signature themes in place. Its direction is, as usual, obsessively controlled but fluid, its rhythms always appropriate for the manifold pieces of the plot.
Techine's usual blend of intellectualism and carnality, should make the film a cash cow on the domestic front.
Add seductive setting (atypical images of Venice rarely seen on film and the nearby remote, verdant island of Sant' Erasmo, all superbly shot by Hirsch); extraordinary performances (especially Dussollier's Francis, a famous, womanizing, older novelist out of touch with his feelings, who manages to get writer's block whenever he falls in love, and Bouquet's gorgeous, butch, bisexual Judith, a much younger empathetic, tough, and unconstrained model-turned-real estate agent); and a the pitch-perfect pace of a thriller, nicely augmented by Richter's manic violins.
In Unforgivable (Impardonnables) movement is inherent in the plot, as in other Techine films. In this film, given its location, the vehicular dynamics emanate from speedboats. The mix, Techine's usual blend of intellectualism and carnality, should make the film a cash cow on the domestic front, a lucrative acquisition in Europe, and a small financial success for a film falling somewhat out of the mainstream in North and South America.
Francis is a well-known author of dark bestsellers, a widower whose wife was fed up with his infidelities and died loaded with sedatives in a suspicious car accident. His beautiful actress daughter, Alice (Thierry), remains embittered; a wealthy husband and a cute pre-teen daughter have not helped her bury the hatchet.
A recurring motif in Techine's films, chance (what the French call hasard), is instrumental from the very beginning in creating the principal storyline. Francis leaves Paris for Venice to rent an isolated flat where he can write. He enters the agency owned by Judith, a French expatriate with a long track record of globetrotting and sexual democracy: She has slept, without guilt or remorse, with men, women, youths, and seniors. He exits the office after she proposes the sale of a charming old house on Sant' Erasmo, but the pouring rain sends him scurrying back inside. Taking full advantage of the situation, he asks if she will take him to see the place.
Her boat soon runs out of gas. The humour of the absurd situation breaks the ice (her façade is an extremely cool one in the first place) and provokes him to blurt out, "Move in with me and I sign right now!" This in turn precipitates the first of her several nosebleeds, involuntary responses to events of the heart that her ever-vigilant subconscious has repressed. We already gather that she will eventually relinquish control, and that most likely he will begin to take charge of his own life. Jump ahead a year and a half, and the duo are cosily residing together in the idyllic home, the sea on one side, a lagoon on the other, and vineyards all around.
Life couldn't be better, except for the way each relates to others. Francis compensates for his writer's block with extreme jealousy, hiring the troubled, violent ex-convict son, Jeremie (Conte), of a retired private investigator, Anna Maria (Asti) - a lesbian who had once been Judith's lover and is still her close friend - to tail Judith, in case she is engaged in an affair. Already he had convinced the reluctant Anna Maria to track down troubled Alice, who has disappeared without a word.
The notion of following runs throughout the film. So does the concept of violence, which gives the movie its title - Francis tells gaybasher Jeremie that violence against others is "unforgivable" - but Jeremie's extreme physical aggression is the catalyst through which Francis will become aware of physical manifestations of his own temper and frustration.
A lot goes on: Alice is having an extramarital affair with the gangster son of a bankrupt contessa, Anna Maria becomes seriously ill, Francis's work for Jeremie pushes the youth and an annoyed Judith very close together (probably the older man's twisted plan in the first place), Francis and Judith break up and get back together, a gay man Jeremie has beaten refuses to be the victim and comes back with his pals and exacts revenge, and Francis starts to write again. For the most part, the pieces come together satisfactorily, although, as usual, Techine comes close to overscripting. Most of the crises depicted end if not happily then potentially promising, so that much of the darkness becomes transformed into light.
Production companies: SBS Films, CRG International, France3 Cinema
International sales: TF1, www.tf1.fr
Producer: Said Ben Said
Screenplay: Andre Techine, Mehdi Ben Attia
Cinematography: Julien Hirsch
Editor: Herve de Luze
Music: Max Richter
Main cast: Andre Dussollier, Carole Bouquet, Melanie Thierry, Adriana Asti, Mauro Conte