Dir: Jaume Collet-Serra. US. 2011. 108mins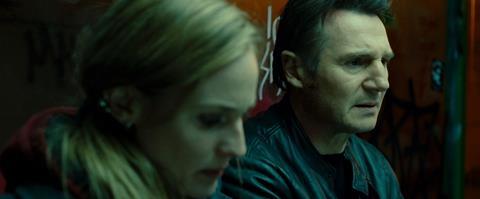 Liam Neeson is on the loose in another photogenic European capital for Unknown, an efficiently staged but credibility-stretching international thriller that never quite lives up to its Hitchcockian potential. The Berlin-set outing could perform solidly in a number of markets even if it fails to match the surprisingly big takes achieved two years ago by Neeson's Paris-set actioner Taken.
Collet-Serra does deliver a couple of exciting car chases, and he makes good use of the film's Berlin locations.
The Dark Castle production will benefit from an out-of-competition screening at the Berlin festival and the location, cast and literary pedigree should provide extra selling points when the film opens through February and March in major international markets, with Warner Bros or StudioCanal distributing.
Warner opens the film (with a PG-13 rating) on Feb 18 in North America, where Neeson's pulling power - which helped Taken reach an impressive $145m domestic take - will count more than the other elements.
Unknown's literary source is 2003 French novel Out of My Head (Hors de Moi) by Prix Goncourt winner Didier van Cauwelaert, whose books have been made into a string of French films and TV movies (among them The Education Of Fairies and One Way Ticket).
Screenwriters Oliver Butcher and Stephen Cornwell, getting their first joint credit, move the setting from Paris to snowy Berlin. Neeson's Dr Martin Harris arrives in the city with his wife (Mad Men's January Jones) to attend a biotechnology summit but ends up in a four-day coma after a car crash. When he wakes up, Harris finds that another man (Aidan Quinn) has assumed his identity and academic standing. His wife doesn't recognise him and records of his arrival in the city have conveniently vanished.
After briefly doubting his own sanity Harris becomes determined to solve the mystery and uncover the imposter. He enlists the help of a young Bosnian refugee taxi driver, played by German-born Diane Kruger (Inglourious Basterds), a former East German secret policeman, played by German veteran Bruno Ganz (Downfall) and an old American friend, briefly portrayed by Frank Langella (Frost/Nixon).
The bio-political conspiracy that is subsequently revealed is topical but never easy to swallow and things become even less convincing when the film introduces its big third act plot twist.
Neither the script nor Spanish-born director Jaume Collet-Serra (Orphan) does much to explore the philosophical and psychological issues implied by van Cauwelaert's novel. Instead, the mystery fades into the background and the film becomes a far-fetched if good looking version of one of the thriller genre's standard scenarios.
Collet-Serra does, though, deliver a couple of exciting car chases, and he makes good use of the film's Berlin locations (interiors were shot at the city's Studio Babelsberg. There are the requisite shots of the Victory Column and Brandenberg Gate but for the most part this is an atmospheric contemporary Berlin of techno clubs and migrant worker apartment blocks.
The feel is enhanced - and given extra historic resonance - by Ganz's brief performance as a wheezing, nostalgic former Stasi man whose habitual paranoia makes him the first person to believe Harris' story. Langella's performance also adds heft, though his late entry into the action is a little jarring.
Neeson doesn't get as many enjoyably brutal action scenes as he did in the more visceral Taken but he's quite effective portraying Harris' forlorn confusion at the loss of his identity. In fact, his effectiveness adds to the difficulty of believing in the later plot revelations.
Kruger adds another relatable human touch, though her role isn't very well integrated into the plot and seems designed mostly to give the story a sympathetic female figure.
Production companies: Warner Bros Pictures, Dark Castle Entertainment
International distribution: Warner Bros, www.warnerbros.com/ StudioCanal, www.studiocanal.com/Optimum Releasing, www.optimumreleasing.com
Producers: Joel Silver, Leonard Goldberg, Andrew Rona
Executive producers: Susan Downey, Steve Richards, Sarah Meyer, Peter McAleese
Screenplay: Oliver Butcher, Stephen Cornwell, based on the novel by Didier van Cauwelaert
Cinematography: Flavio Labiano
Production designer: Richard Bridgland
Editor: Tim Alverson
Costume designer: Ruth Myers
Music: John Ottman, Alexander Rudd
Website: www.unknownmovie.warnerbros.com
Main cast: Liam Neeson, Diane Kruger, January Jones, Aidan Quinn, Bruno Ganz, Frank Langella