Dir: Zach Clark. US. 2010. 95mins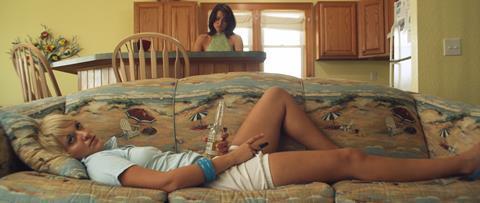 The latest feature from underground US film-maker Zach Clark may make a nod or two to Beach Blanket Bingo but, beyond a few kitschy trimmings, is actually as dark as they come - a pitch black story of women in crisis which should bring even wider exposure to Clark than last year's festival fixture Modern Love Is Automatic.
Made on a limited budget, the film's vision is utterly contemporary, an edgy cocktail laced with longing and nihilism.
Made on digital video in his family's holiday home on the coast of North Carolina, Clark's story of four high school friends reconnecting for a deadly vacation explores the anxiety and ennui that plagues modern-day singles as they struggle to connect with other humans. But if it sounds all gloom and doom, that would be a false impression. Clark's exuberant aesthetic, combined with the energy and naturalism of his four lead actresses make for a tasty surprise which has cult midnight movie written all over it.

The film had its world premiere at the Edinburgh International Film Festival earlier this week. Myriad festival invitations and sales interest from youth-savvy distributors should follow.

The four are brought together after some years' absence by nerdy Sugar (Ross), who suggests to each that they all get together to rent a beach-house for a week in the summer. Sure enough, soon they are all heading out to the coast. There's the brassy Lorelei (Hyslop) who ignores the calls from her ex-boyfriend, the witty lesbian DeeDee (Sisk) who is in a relationship with a woman who also has a boyfriend and the pretty straight-laced schoolteacher Donna (Dunn). The quartet stock up on beer and pina colada ingredients and settle in for a week of rebonding, sunbathing and partying.

But the reality of reunion is harder for the women than they thought and they struggle to find common ground or escape the problems of loneliness in their lives. In an effort to kickstart the vacation, Lorelei buys some acid from the local surfer dude (Abbott) and persuades her friends to take it with her. The following morning, one of them is dead.

Clark has already told the audience in newspaper print over the title sequence that one of the women will die, adding a sense of foreboding that lingers throughout the first half of the film. The centerpiece acid trip, a wonderfully zany sequence in which the women are joined by the presenters of a bowel cleanse infomercial, leads into a more reflective second half in which they turn to sex, masturbation and murder fantasies to cope with the emotion of their actions and their loss.

Made on a limited budget, Vacation! is the indie antithesis of Nights Of Rodanthe, the glossy Richard Gere/Diane Lane romance that also shot on the North Carolina beaches. Similary the names – DeeDee, Sugar, Lorelei and Donna – and even one of the lines may be lifted from Beach Blanket Bingo, but the vision is utterly contemporary, an edgy cocktail laced with longing and nihilism.

Production company/sales contact: Candy Castle Motion Pictures, vacation.movie@gmail.com
Producers: Zach Clark, Daryl Pittman, Melodie Sisk
Cinematography: Daryl Pittman
Editor: Zach Clark
Music: Glass Candy, Fritz Myers
Main cast: Trieste Kelly Dunn, Lydia Hyslop, Maggie Ross, Melodie Sisk, Michael Abbott Jr