Dir: Bryan Singer. US/Ger. 2008. 120 mins.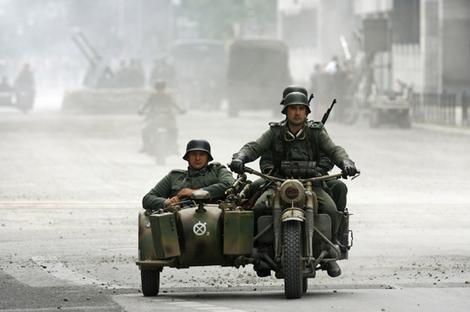 A serviceable if straightforward thriller starring Tom Cruise as a German officer who joins a plot to assassinate Adolf Hitler, Valkyrie should play decently with those who have helped make World War II films a cottage industry. Based on true events, the film compensates for a lack of verve and action with solid production design and crisp performances from its cast.
The drumbeat of the narrative doesn't leave much room for deep or lasting impression in the performances, but there is a cool efficiency to the ensemble, individually and collectively.
Opening in the US on Christmas Day, Valkyrie will face tough box office competition from Will Smith's Seven Pounds in its second week, as well as graphic novel adaptation The Spirit. Lacking flashy set pieces or the sort of powder-keg punch to drive word-of-mouth and repeat adolescent business, Valkyrie should skew slightly towards adult audiences, and serve as a domestic referendum on Cruise's star power. The historical angle and Cruise's still-robust international drawing power should power solid grosses overseas.
Set mostly in July, 1944, the story focuses on Colonel Claus von Stauffenberg (Cruise), a German army officer appalled by Hitler's atrocities and the outrages committed by his Nazi SS. Joining a band of resistance plotters consisting of both senior officers and politicians, von Stauffenberg helps refine a plan to kill Hitler with explosives, and use the momentary period of confusion to take over Berlin. The conspirators arm themselves with Hitler's own code-named emergency plan to stabilise the government in the event of his attack or demise, hoping to quickly mobilise the reserve army and turn them against the brutal SS elite.
Apart from an opening air attack sequence, Valkyrie is fundamentally a film about back-room plotting, not big-stroke action. There are a few striking visual markers — uncradled phones and slamming typewriter keys — that hint at building tension, but Singer also misses key opportunities to inject a little energy and visual flash into the story, as exemplified by a clumsily-staged arrest sequence late in the film. Valkyrie at times feels emotionally constrained, too invested in speechifying.
The script, by Christopher McQuarrie and Nathan Alexander, does a good job of condensing a sprawling conspiracy plot which in real life saw the arrest of 700 people and the execution of more than 200. But, as with Singer's direction, it's also occasionally notable for what is missing. A sequence in which General Friedrich Olbricht (Nighy) and von Stauffenberg try to subtly recruit General Friedrich Fromm (Wilkinson), who clearly gauges that something is afoot, makes one yearn for more shading about the unspoken instincts for political survival in Nazi Germany. Since this entire conspiracy is much more about scheming than pyrotechnics, brawn or brute force, more work on the characters' mindsets and less about the actual plot might have thrown the drama of its eventual failure into starker relief.
Also, though Valkyrie underlines its language choice early on, blending German into English in a disgusted voiceover from von Stauffenberg which opens the film, all the unaffected British and American accents on display sometimes undercut its credibility.
That said, there's a polished, professional sheen to Valkyrie. Greys dominate cinematographer Newton Thomas Sigel's screen, highlighting the despair the conspirators feel. John Ottman's score pushes all the right buttons, and since he's also the movie's editor the match of image and music seems to work especially well.
The drumbeat of the narrative doesn't leave much room for deep or lasting impression in the performances, but there is a cool efficiency to the ensemble, individually and collectively. Cruise does little to distinguish von Stauffenberg from past crusading characters; he's glowering and intense in the ways you've come to expect. Only Wilkinson, by virtue of the complexity and hint of self-doubt in his eyes, gives viewers a true glimpse of his character's inner life.
To sign up for Screen's weekly Reviews Newsletter with all the week's new releases, international openings and full festival reviews delivered free to your mailbox every Friday, please click
HERE
Production companies
Metro-Goldwyn-Mayer Pictures
United Artists
Bad Hat Harry Productions
Achte Babelsberg Film
Domestic distribution
Metro-Goldwyn-Mayer Films
International distribution
20th Century Fox
Producers
Gilbert Adler
Bryan Singer
Christopher McQuarrie
Screenplay
Christopher McQuarrie & Nathan Alexander
Cinematography
Newton Thomas Sigel
Production designers
Lilly Kilvert
Patrick Lumb
Editor
John Ottman
Original music
John Ottman
Main cast
Tom Cruise
Kenneth Branagh
Bill Nighy
Tom Wilkinson
Carice van Houten
Thomas Kretschmann
Terence Stamp
Eddie Izzard
Kevin R. McNally
Jamie Parker
Christian Berkel
David Bamber
Tom Hollander
David Schofield