Italian director Michele Placido has teamed up with his Romanzo Criminale star Kim Rossi Stuart to portray the life of infamous Italian criminal Renato Vallanzasca for 20th Century Fox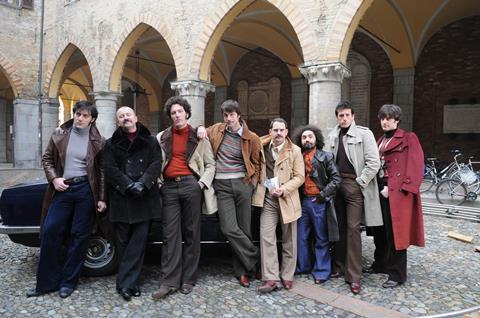 Notorious Italian criminal Renato Vallanzasca is the subject of the first Italian language project ushered through 20th Century Fox, (via Fox's neo-production company 21st Century Fox) since Bernardo Bertolucci's 1979 La Luna.
The project, whose working title is Vallanzasca – The Flower Of Evil, originated with producer Elide Melli of Rome based Cosmo Productions, who had obtained the film rights to Vallanzasca's biography co-authored by Vallanzasca and journalist Carlo Bonini. Melli then pitched the idea to Romanzo Criminale director Michele Placido who loved the project. "The real vision for this film came from Placido, without him we wouldn't have been able to make it" she says.
But it was when Melli unexpectedly found herself talking up the project to Osvaldo De Santis, President of Fox Italia at a dinner in Rome, that the things really took off.
"From the moment Osvaldo and I met Elide Melli who recounted the extraordinary story of Vallanzasca's life, we were hooked," says Sanford Panich, chief of Fox International Productions.
It was Placido's idea to cast Kim Rossi Stuart, who starred in the director's hit 2005 film Romanzo Criminale, as the notorious criminal who was first arrested at eight years old for attempting to free a tiger from a circus and went on to orchestrate kidnappings, robberies and murders at the height of Italy's economic boom in the 1970's.
The remaining casting was a cooperative decision involving Fox, Melli and Placido. Baaria actor Francesco Scianna plays his childhood friend Turatello known as "King of Milan", while Filippo Timi (Vincere) and Moritz Bleibtreu (Munich) star as Vallanzasca's partners in crime.
Vallanzasca's nickname was "Bel Rene" for his ability to attract women and Paz Vega plays one of those women, Antonella D'Agostino, who he went on to marry him from prison in 2008. Valeria Solarino is the ex wife.
Originally working from an early draft script by Andrew Laenza and Toni Trupia, Placido and his leading man Stuart went on to forge their own version after meeting with the real life Vallanzasca (who is currently serving a term of 260 years and four life sentences) in prison. The finished article is made up of a hefty 155 scenes, spanning Vallanzasca's entire career from the first crimes up to his final arrest.
Placido credits Stuart's input as indispensable to the scripting process. "[He] wrote his version on the basis of the previous screenplays, which I collaborated on… I consider him a capable writer and since he got to know Vallanzasca more than I did I asked him to work on it."
Co-financed by Fox and Cosmo on a budget of US$9.5 mil (Euro 7 mil), the project is due to wrap its twelve week shoot in Milan and Rome on March 29, right on schedule.
"Stylistically we are starting from Romanze Criminale. We want to do an action film, a genre film and a film in which there are sentiments," explains Placido, speaking on location at Rome's Sheraton Hotel, which doubles up for Milan's well-known "Martini Terrace" with plus 1970's furnishings.
Despite the fact that shooting hasn't even finished yet, Placido has already been confronted by the Vallanzasca victim families, who are unhappy at the idea of seeing him lionized on film.
"We have respect for the victim's families but we can't just make films about Padre Pio," says Placido of the priest venerated in Italy as a saint.
"Where is the scandal of making a film about Vallanzasca – who is clearly a criminal and paying with a life sentence…He is a person whose dark side interests me…Evil [is of interest]. It interested Dostoevsky, it interests literature and cinema."
Placido compares the subject matter of the project to that of Francseco Rosi's Silver Bear winning Salvatore Giuliano, about a famed bandit, which he describes as a "revelatory film about Italy in those years."
"Our film is not just about Vallanzasca it's also a portrait of Italy: left-wing terrorism, right-wing terrorism, social decadence," adds Placido.
Fox controls worldwide rights for the project, which Marco Mueller has already expressed interest in for the upcoming Venice Film Festival. But Panich doesn't plan to stop there. "We think this film has great potential in Italy and around the world as Il Divo and Gomorrah have recently shown," he says.