At the half-way mark, the Venice Film Festival director reveals plans for an additional cinema and defends A Bigger Splash.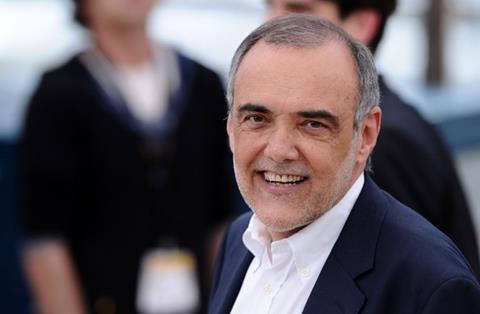 Venice Film Festival (Sept 2-12) director Alberto Barbera is pretty happy with progress so far as the world's oldest cinema showcase reaches the half-way mark. And he has right to be.
"I'm feeling good," the director told ScreenDaily on Sunday (Sept 6). "It has been satisfying."
Barbera has enticed impressive juries, a good number of actors and - perhaps even if not as large as it once was - a healthy contingent of international press.
Flagships The Danish Girl and Black Mass largely found favour with audiences and critics alike (though Tom Hooper's drama also vexed some reviewers), the refreshing Everest was a spectacular and generally appreciated opener, Tom McCarthy's newsroom drama Spotlight was widely praised and - as expected - art-house fare Francofonia and In Jackson Heights garnered solid receptions.
Gems have included Rodrigo Pla's Monster With A Thousand Heads, Neon Bull and Janis: Little Girl Blue, while Mountain, A Peine J'Ouvre Les Yeux and Pecore In Erba have also quietly impressed.
Beasts Of No Nation and Childhood Of A Leader were seen as challenging watches but found champions and detractors.
Mixed reactions
"Some films have been received better than expected and some have got the reaction I thought they might get," said Barbera, who lamented one or two 'minor' tech issues, including the opening night hiccup which saw the projection of Everest stopped for a few minutes while organisers scrambled to fix blurred 3D.
"It was one of those stupid things that shouldn't happen. Someone switched off a plug they shouldn't have," explained the veteran festival head, now in the fourth year of his second stint at the Venice helm.
Among films to have had bumpier rides so far have been Drake Doremus' Equals - which nonetheless is expected to close a US deal soon - and Luca Guadagnino's competition entry A Bigger Splash.
Guadagnino's refashioning of La Piscine scored mixed notices - though the acting was widely praised - but garnered uncharacteristic boos at two morning press screenings, primarily from disgruntled Italian industry and media.
The reaction seemed in part tinged by local politics. When Screen canvassed opinion after the screening, industry acknowledged that local films were likely to get a tougher ride than others and that there could be envy towards an Italian director working with a larger budget than many of his peers.
The fact that the film was in English didn't endear it to some while other Italian industry pointed Screen to the film's caricatured local police chief and its fleeting nod to Europe's immigration crisis as reasons for offence.
"It can happen," explained Barbera, himself a former critic for many years. "Look at Sorrentino in Cannes. Most of the Italian critics wrote negative reviews of The Great Beauty but when the film went to the Oscars they were forced to change their attitude [not that A Bigger Splash will be in Academy contention with its distant May 2016 US release date].
"It's similar with Luca. Most of the local critics didn't like I Am Love but when it became an international success they started to think it wasn't so bad. Now they are repeating the same mistake.
"It's a pity and it's stupid behaviour. It's hard to explain. Maybe it's because Luca is not trying to please critics. He speaks his mind and is direct."
Piero Messina's feature debut L'Attesa, also in competition, fared better.
After left and right wing local press alike enjoyed Tom McCarthy's brilliantly acted Spotlight - the irony of the film's subject of abuse in the Catholic Church was not lost on local audiences - Barbera singled out Amos Gitai's Rabin, The Last Day as another politically intriguing proposition among the upcoming line-up, describing it as "one of the best Gitai films of the last 12 years - more direct, tough and against the right wing in its message than some of his previous films".
Industry challenges
Despite programme successes, both Barbera and market head Pascal Diot still remain hamstrung by a local government that won't always play ball in easing the path for festival organisers to welcome industry.
The budget remains $13.4m (€12m) but many hotels still don't feel the need to reduce prices (they fairly point to Venice's year-round popularity), transport options could be improved and the Hotel Des Bains is still a couple of years from reopening.
Diot was nevertheless upbeat about this year's market, singling out increased attendance to some strands and the second year of the gap financing market as a project he would like to grow.
Diot also revealed to Screen that a TV element could be added to next year's market in a similar move to so many other festivals this year.
Meanwhile, Netflix were among attendees this year and the talk is that Amazon could join next year.
New cinema
Both executives acknowledged that more and better utilisation of space would help their causes.
Barbera revealed that while the long-gestating plans for a separate cinema venue have all but died authorities are receptive to a new idea to build a 500-600-seat cinema in a refurbished Palazzo del Casino.
"Venice has a new mayor as of just of a few months ago and one of the first decisions he took was to fill in the construction area on which we were to build a new venue and cover it with a garden", said Barbera referring to the long-gestating plan to build another Palazzo del Cinema.
"It's a problem because we need more space for the festival and market. We need new facilities. We're not so happy about the decision.
"The authorities have promised to invest in the restoration of the Casino building, which needs to be renovated to find space to build a new cinema on the third floor - a 500-600 seater. It will take a bit of money but the hope is to start soon."
Barbera's future
Barbera hopes to be in place to see the growth through. The well-liked festival director's contract is up at the end of the year, as is that of Biennale president Paolo Baratta.
"I would like to stay on," admitted the industry veteran, who has got Venice firmly back in the big time. "I have been in this world for many years. What else could I do?," he laughed.
"The main goal is to find money for the renovation of the Casino."
Venice remains a healthy combination of anticipated awards fare and indie discoveries played out at a manageable pace in one of the world's most striking locations.
The market is still low-key and costs can be hard to swallow but the world's oldest festival remains a prestige launchpad and a vital opportunity to take stock ahead of the Toronto juggernaut.