Dir/scr. Margarethe von Trotta. Germany. 2009. 110 minutes.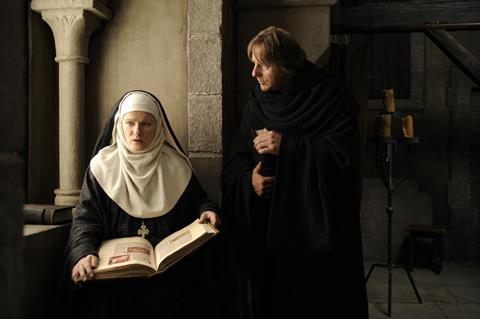 On the face of it, the life of a spiritual pioneer would seem to be an odd new wrinkle in the career of Margarethe von Trotta, whose historically entrenched dramas have tended to meld the personal with the political. Galvanized by a magnetic performance from her five-time collaborator Barbara Sukowa, however, this biopic of the mystic and maverick Benedictine nun Hildegard von Bingen makes for a surprisingly persuasive addition to von Trotta's gallery of potent female protagonists.
Axel Block's golden-hued photography takes maximum advantage of the film's pastoral cloister settings
The challenge in finding a wide audience for this well-crafted effort, though, may have less to do with its resolutely straightlaced subject matter than a curiously flaccid resolution that generates less of an emotional punch than a tally of the film's many effective scenes would seem to promise.
Von Trotta begins her 12th century tale at its medieval grimmest, when, as a cloistered child, von Bingen bears witness to the ugly self-mortification rituals of her elders. Some 30 years later she ascends by popular demand to the role of magistra, at which point von Bingen (Sukowa) tries to disabuse the cloister's monks and nuns of their whips, an enlightened outlook that is accompanied by a new emphasis on herbal medical practices.
Benefitting perhaps from the brief honeymoon period accorded most newly elected leaders, von Bingen is given a considerable amount of leeway for her innovations. It is only when she professes to be a chosen conduit for the messages of God that she incites the suspicion of the monks, who accuse her of faking visions.
And it's not just the men who are threatened, a fact made painfully clear when von Bingen's campaign to institute a separate residence for the nuns and monks is met with brickbats from some of the sisters, who resent being wrested from the comforts of monastery life.
Von Trotta adds some welcome human-size texture to her potentially superhuman protagonist via a subplot involving a spirited 16-year-old (Herzsprung) who joins the sisterhood, claiming von Bingen as her mentor and developing a surrogate familial bond that manages to unseat them both.
Herzsprung's feline beauty and intensity provide a perfect foil for Sukowa, who makes her character's impulses feel grounded and sane without ever being earthbound. She receives solid help as well from Ferch, who is quietly charismatic as a monk who becomes von Hingen's biggest male supporter.
Axel Block's golden-hued photography takes maximum advantage of the film's pastoral cloister settings, evoking eloquent contrasts between candlelit stone interiors and foresty exteriors. The production takes imaginative liberties in bringing to life its protagonist's many accomplishments, including the premiere of the first-ever morality play, staged here with a spare theatricality that makes it seem more of-the-moment than the movie surrounding it.
To sign up for Screen's weekly Reviews Newsletter with all the week's new releases, internationalopenings and full festival reviews delivered free to your mailbox every Friday, please click HERE
Production companies
Clasart Film
Celluloid Dreams
International sales
Celluloid Dreams
+ 33 (1) 4970 0370
Producer
Markus Zimmer
Screenplay
Margarethe von Trotta
Cinematography
Axel Block
Main cast
Barbara Sukowa
Heino Ferch
Hannah Herzsprung
Alexander Held