Dir: Jean-Marc Vallee. US. 2014. 115mins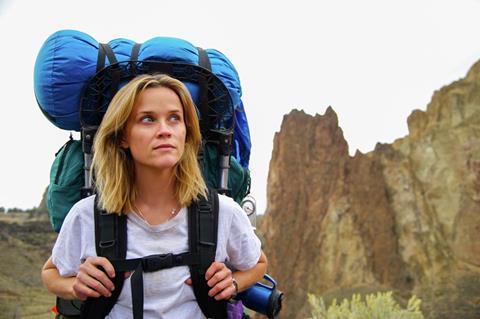 The thoughtfully rugged Wild is the perfect awards vehicle for the resurgent Reese Witherspoon, making great use of striking locations and a movingly resonant script to come up with a memorable film that could strike a chord with audiences. An adaptation of Cheryl Strayed's 2012 story of her 1,100 mile hike along the Pacific Crest Trail, it is a story of self-discovery, reflection, humour and most of all physical challenges.
Reese Witherspoon is excellent here, embracing the physical commitment and delivering her best work for some time.
Directed with languid ease by Jean-Marc Vallee (a rather change of direction after last year's Dallas Buyers Club) from an often wordy but always astute script by Nick Hornby, the film is not a simple survival story (such as Into The Wild or 127 Hours), but as much about the inner journey as the exterior one. The Fox Searchlight release is likely to be well received by critics on its December release, and awards may well follow.
Unlike Sean Penn's 2007's powerful Into The Wild – perhaps its closest forbearer – this Wild lacks a visceral sense of drama, instead charting Strayed's mental and physical journey as she attempts to tackle her inner demons and memories, emerging (unsurprisingly) a stronger and better person. The film juggles Strayed's difficult past with her determination to recover, using plentiful flashbacks set alongside her harsh but cathartic physical trek.
Her journey to the dark side is set in motion by the dearth of her mother Bobbi (Laura Dern) from lung cancer at the age of 45, which propels her 22-year-old daughter into a life of sex and heroin addiction which sees her marriage collapse and her finally have to face up to her demons. The film opens with her midway through her hike in 1995 (in a smartly amusing moment where she loses her hiking boots) before juggling her journey with her past.
The film is at its most viscerally gripping when it dwells on Cheryl's three-month long trek from the Mojave Desert to the Oregon-Washington border. There are some nice comedy moments at the start – mainly focusing on her massively over-packed backpack, dubbed 'the monster' by one fellow hiker – as she has to slowly grow from gauche walker to experienced hiker.
Vallee favours relishing the stunning scenery (beautifully shot in widescreen by cinematographer Yves Berlanger) rather than hard drama. He hints at danger (from a driver who stops to help her or a pair of bow hunters she meets in the woods) but these are gentle plot devices rather than real peril – the nastiest moment involves her bloodied toe-nails due to her too-tight boots – and in fact she is helped by strangers rather than hassled all the way along her journey.
She jots down quotes from Emily Dickinson, Robert Frost and James A. Michener in her journal and on trail notebooks provided along the trail route by and receives care packages every few hundred miles or so from her inexplicably supportive ex-husband Paul (Thomas Sadoski), all of which is punctuated by her memories of her past life which reveals the deep and supportive love from her mother and her subsequent spiral into drugs and self-abuse.
Reese Witherspoon is excellent here, embracing the physical commitment and delivering her best work for some time. Her feisty charm is a perfect fit and she works well with Laura Dern, though the fact that in real life Dern is only nine years older than Witherspoon is a little incongruous at times. The film astutely presents Cheryl as a self-aware sexual woman – the sex scenes are as open as Witherspoon's hiking sequences – and never as a real victim, with Hornby's script presenting her as a fully fleshed-out individual rather than a series of clichés. It is a powerful and movingly memorable film with Witherspoon the striking core of a film that wears its heart impressively in its sleeve.
Production companies: Fox Searchlight Pictures, Pacific Standard
Distribution: Fox Searchlight
Producers: Reese Witherspoon, Bruna Papandrea, Bill Pohlad Executive producers: Bergen Swanson, Nathan Ross, Nick Hornby
Screenplay: Nick Hornby, based on the book by Cheryl Strayed
Cinematography: Yves Berlanger
Editors: John Mac McMurphy, Martin Pensa
Production designer: John Paino
Main cast: Reese Witherspoon, Laura Dern, Thomas Sadoski, Michiel Huisman, Gaby Hoffmann, Kevin Rankin, W. Earl Brown, Mo McRae, Keene McRae