Ahead of its release on December 18, Screen asked four experts whether Star Wars: Episode VII - The Force Awakens would take the global box office crown…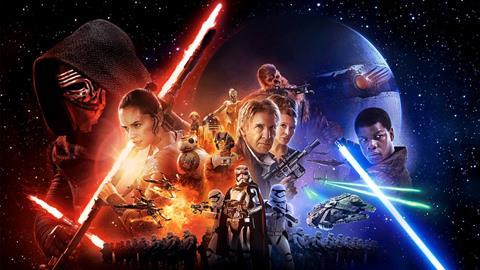 Avatar currently holds the crown for the biggest ever global box office release, grossing a little under $2.8bn after it was released on Dec 18, 2009 - coincidentally the same date the new Star Wars instalment will hit theatres this year.
In second place remains Titanic, which took almost $2.2bn after it was released on December 19, 1997.
Jurassic World, which has taken $1.7bn since hitting theatres on June 12 this year, completes the current top three.
Could Star Wars: Episde VII - The Force Awakens topple Avatar? Could it be the first film to pass $3bn? Four experts cast their votes…
Paul Dergarabedian
Rentrak
Star Wars: Episode 7 - The Force Awakens certainly has the potential to eclipse both Avatar and Titanic for the worldwide box office crown.
Notably those two films also opened in mid-December and took advantage of the wide open and less competitive late December/first quarter release corridor and were able to consistently and methodically build toward massive numbers both in North America and in the international markets.
However, unlike Avatar and Titanic, which both opened to relatively modest opening weekend box office performances, The Force Awakens will likely perform unlike any other December opener in history with the very first-ever $100 million plus debut in North America.
No film has ever opened with more than $100 million in North America in December and, given the extreme level of excitement, anticipation and passion that people have for the brand, this latest Star Wars could post potentially record-breaking numbers on many different fronts and amass a staggering global revenue opening weekend performance.
If any film has a shot at surpassing the $2.8 billion worldwide gross of Avatar and the $2.2 billion global revenue of Titanic, its is Star Wars.
Could $3 billion be possible? We shall see.
Charles Gant
Screen International/The Guardian
On the con side, Phantom Menace grossed just over $1bn in 1999, falling far short of the then $1.7bn benchmark set by Titanic. The Force Awakens would have to nearly triple that Phantom Menace figure to beat Avatar's $2.7bn.
On the pro side, many international markets have hugely matured since Phantom Menace, and China alone is going to deliver a handy nine-figure sum this time.
On top of that, you've got an even broader demographic. Phantom Menace, in 1999, appealed to kids and to young parents, especially fathers, who were kids first time around.
Now the nostalgia factor extends up to 50-somethings, creating excitement for the reboot across the generations. Look what happened with Jurassic World — the affection was above and beyond what anyone expected.
The Force Awakens looks to be the second film to crack $2bn worldwide. But Avatar sold itself as, genuinely, an experience that audiences had never had before, reaching even the extremely occasional cinemagoer.
I'm not clear why The Force Awakens would qualify as something that invents its own category.
Clare Binns
Picturehouse
I have no doubt it will smash all records. The trailers and marketing have been uniformly amazing, pre-sales have been through the roof and it has a must-see value for fans, newcomers and families alike. The planets are aligned for The Force Awakens.
Phil Clapp
UK Cinema Association
Almost everyone I speak to on my side of the industry expects Star Wars: the Force Awakens to become the highest grossing UK film of all time.
Clearly the fact that the film will be in 3D gives it a little bit of a head start over some of its competitors, but there seem to be a number of other more important factors that point towards exceptional success.
The combination of a (much-loved) old and new cast, an admired young director who is not only on a home run of successful films but also shows a clear care about the legacy of the first three films, coupled with blitzkreig marketing which has massively raised expectations while (perhaps tellingly) showing little actual new content have all raised levels of anticipation sky high.