Dir/scr: Faruk Loncarevic. Bosnia Herzegovina-Slovenia-Germany. 2013. 80mins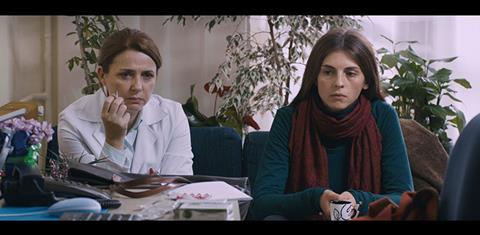 Death in the family, often treated on screen from every possible angle, is tackled again here, this time from the perspective of the relationship between an ailing mother and her older daughter. Evidently inspired by real events, judging from the dedication at the end of the final credits, the story is told from the daughter's point-of-view.
Writer/director Loncarevic manages to resist the temptations of the melodrama.
But the main interest of With Mom (Sa Mamom) – which premiered at the Sarajevo Film Festival - is in the closely observed and often painfully accurate portrait of an energetic, domineering mother going through the terminal phase of breast cancer and confronting not only certain death but also the husband and her two daughters she is leaving behind.
The director of a hospital she had helped to found, Jasna (Mira Furlan), a handsome woman in her fifties, had been fighting breast cancer for more than eight years and is now reaching the end of her time. She is fully conscious there is nothing more to be done, that no one is to blame, but she can't help being angry, bitter, and feeling no one will sincerely grieve for her.
She is both fond and furious at her husband Mladen (Branko Djuric) who, she knows, has had affairs once she had become ill, and at her older daughter Berina (Marija Pikic), who fails to come up to her expectations in every respect. Berina, a quiet, introvert girl, looking much like her mother, takes all this often spiteful bickering without saying a word but inside she is devastated by her mother's sickness and would do anything to keep her alive, whether it is memories of the past, witchcraft, talismans, casting charms, even religion.
At the same time, however, she is struggling with her own sexuality and with her artistic aspirations and having troubles defining her own identity. A brief romance with a pious young man seems, on her part, more like an act of desperation, despite the boy's serious intentions.
Though the script's focus is mostly on Berina and her silent but despondent efforts to do something against all hopes, it is Jasna, once the driving force behind the whole family, who is gradually defeated by pain, suffering impotently and rebelling against the fate that was dealt to her and had spared the others around her, that draws most of the attention.
Not least because of Mira Furlan's furious performance, downplaying the pathetic plea for sympathy the role would suggest, to instill it with the hostile rage of a person who has been in control all her life only to be rendered helpless at the very end.
Modern Sarajevo, in which the old and the new still co-exist side by side, washing hanging out to dry on the balconies and believers chanting prayers in a mosque on the one hand and bright, fancy modern technological facilities and frenetic discos on the other hand, provides the background, with Loncarevic managing to resist the temptations of the melodrama.
Production companies: SCCA/pro:ba
Contact: office@pro.ba
Producers: Ana Bacsic Camo, Adis Dapo
Cinematography: Oleg Mutu
Editors: Natasa Damnjanovic, Rezinald Simek
Production designer: Osman Arslanagic
Main cast: Marija Pikic, Mira Furlan, Branko Djuric, Edina Kordic, Sania Vejnovic, Igor Skvarica