Once a go-to destination for Hollywood, Trinidad & Tobago continues to attract international shoots.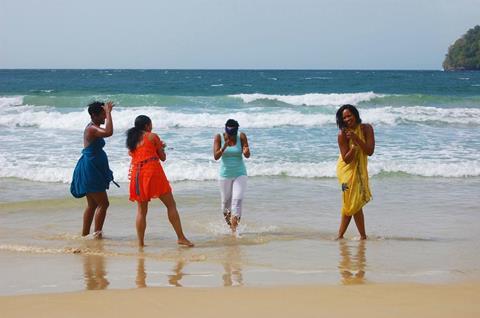 According to local legend, the late Hollywood star Mickey Rooney considered building a film studio on the islands of Trinidad and Tobago in the late 1950s.
At the time, the twin island republic was a popular destination for Hollywood productions including Fire Down Below and Swiss Family Robinson. These days few crews are making the trip from Los Angeles but the destination remains popular for shoots attracted to its diverse landscapes and tax rebates.
"What positions Trinidad and Tobago as a film location at the moment is the robust and aggressive cash rebate, which is up to 55% with a ceiling of $8m in spending, and the fact it is cash and not tax," says Carla Foderingham, head of Trinidad & Tobago Film Company (TTFC) which administers the rebate.
The islands' other big plus, adds Foderingham, is the diversity of its landscapes. "We're a tropical country — the Tobago rainforest is one of the oldest in the western hemisphere. You can move from swamps and mangroves to landscapes that don't look unlike southern Miami. The country could double up for Africa, India or even Cuba; certain elements lend themselves to the old world Caribbean. A film set in Vietnam was scouting here recently."
Aside from promoting Trinidad and Tobago to international productions, TTFC is also active in supporting the local industry. "We are producing our own films so some production services and equipment can be sourced locally and we can also provide crew," says Foderingham.
There are also a number of line producers on the island, led by producer and TV personality Lisa Wickham of Imagine Media.
A producer says
"I'd go back again and not just because of the tax breaks. What really made it was the people on the ground who did everything they could to accommodate us. That's essential when you're shooting in a place you don't know." - Jennifer Holness, Hungry Eyes Film & Television
Good to know
Don't pitch up during carnival season (February 16-17, 2015) unless it's a backdrop to your film.
LOWDOWN
What are the financial incentives available to international productions?
Trinidad & Tobago Film Company (TTFC) runs a straight cash rebate programme, providing cash rebates of up to 55%. This is split between 20% on expenses related to the use of local cast and crew and a sliding scale of 12.5% to 35% on qualifying expenditure generated by the actual shoot.
Is there a minimum spend requirement?
The minimum spend is $100,000 to a maximum of $8m. The maximum cash rebate is $1.5m.
Are the financial incentives easy to combine with incentives in other territories?
Yes. Jennifer Holness and Sudz Sutherland combined incentives on Canadian feature Home Again, about three Jamaican deportees from Canada coping with life back home. Produced by their Toronto-based company Hungry Eyes, the film was backed by the National Film Board of Canada, Telefilm Canada and Ontario Media Development Corporation and also tapped into the islands' rebate. Hungry Eyes spent $1.1m in Trinidad and qualified for a 35% rebate. European productions to have used the rebate include documentary Calypso Rose, The Lioness Of The Jungle, a French co-production with Trinidad and Tobago.
Can incoming TV productions and commercials access the incentives?
Yes. The UK's Silverback Films recently shot wildlife series The Hunt in Tobago's waters.
Which films have shot in Trinidad & Tobago recently?
Trinidad doubled up as Jamaica in Home Again in 2012. Roger Bobb's comedy Girlfriends' Getaway about four old, now out-of-touch friends who decide to reunite for a holiday, shot at a number of the islands' beach resorts over the summer.
What are the key locations?
Situated close to South America, the islands are renowned for the diversity of their landscapes that range from typical white-sand Caribbean beaches and palm-fringed bays to tropical forest and mountain terrain. In the towns, there is a mixture of old colonial-style buildings, brightly coloured wooden houses and modern buildings. Not exactly a landscape as such but the vibrant nightlife and annual carnival is also a draw as a backdrop.
What are the major film studios?
There are no film studios on the islands although it is home to a number of smaller recording and post-production facilities as well as the Full Circle Animation Studio, which does outsourced work for a number of film clients, based mainly in Canada.
Do incoming productions need to bring their own crew?
Productions can draw on the islands' small TV and film production community but key crew tend to be flown in.
Do crews speak English?
Yes, it is an English-speaking country.
First point of contact?
TTFC is based in the Port of Spain. The organisation administers the rebate and can also connect producers with services: www.trinidadandtobagofilm.com