Peter Ho-sun Chan talks about his first martial arts film as director, which also marks the first on-screen pairing of action hero Donnie Yen and heartthrob Takeshi Kaneshiro.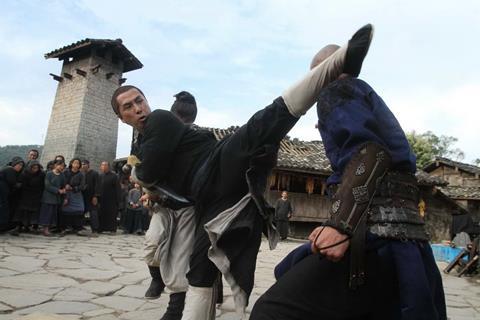 Synopsis: Donnie Yen plays a notorious martial arts expert who decides to leave his sinful past behind, only to be hunted by a determined detective (Takeshi Kaneshiro) and his former clan master.
Director: Peter Ho-sun Chan
Writer: Aubrey Lam
Producers: Peter Ho-sun Chan
Cast: Donnie Yen, Takeshi Kaneshiro, Tang Wei, Jimmy Wang Yu
Budget: $20m
Financing: We Pictures, Stellar Mega Films, Dingsheng Cultural Industry Investment Co, Jiangsu Broadcasting Corporation, Yunnan Film Group
Language: Mandarin Chinese
Countries of Production: Hong Kong-China
Status: In production
Release date: Second half of 2011
Although he's been responsible for some of the biggest films in China over the past five years, Peter Ho-sun Chan had never directed a martial arts film until taking on Wu Xia, which he is currently shooting in China's Yunnan province. His most recent films as director include musical romance Perhaps Love (2005) and drama-driven war epic The Warlords (2007), and while he produced last year's record-breaking martial arts drama Bodyguards And Assassins, directing duties were handled by Teddy Chen.
It was while producing Bodyguards that Chan got talking to the film's star and action choreographer Donnie Yen about how to take the martial arts genre forwards. "I told him I was worried about showing action because as an industry we've run out of ideas," explains Chan. "Our action scenes usually fall somewhere between flashy and fantasy, but they don't serve the purpose of the story. Crouching Tiger, Hidden Dragon was one of the few films that was an exception as it actually abides by the laws of physics."
Yen, who has also recently starred in Ip Man and its sequel Ip Man 2, has a fighting style that is all about impact and power, which Chan thought would be perfect to help him craft something new. He decided to focus on the medical and scientific elements of kung-fu by asking what really happens to the body with the impact of each punch or kick. Camera work and CGI will be combined to show, for example, a simulation of a heart attack in graphic detail. As with Bodyguards, Yen serves as action choreographer on the film.
With a greater emphasis on action than his previous films, Chan said he needed a story that was relatively straightforward: "My films tend to have stories that are very dense, so there's not enough time for action. We had to find a story that is simple, yet can still engage audiences and communicate emotion," Chan says.
The film was scripted by Chan's long-time collaborator Aubrey Lam, who was one of a team of writers on The Warlords and Perhaps Love, but this time around worked solo. The story follows a notorious martial arts expert (Yen) who decides to quit his clan and lead a peaceful family life in a village, but is hunted by a detective (Takeshi Kaneshiro) who has a hunch about his past, and also by his former clan master.
When it came to financing the film, Chan was able to raise the $20m budget from a group of mainland Chinese companies – reflecting the strength of the director and cast, which also includes actress Tang Wei (Lust, Caution), and the confidence local investors currently have in a territory where box office grew by 80% in the first half of 2010.
Chan's sales company We Distribution is handling international sales on the film, while distribution in China, Hong Kong and Taiwan will be handled by his branch offices. At the AFM, We Distribution announced the first deals on the film which included a sale to Luxuries Resources for Singapore and Malaysia for a record-breaking sum.
In contrast to the raw physicality of the fight scenes, Wu Xia is shooting in a picturesque location – the high altitude landscapes of the town in Tengchong in the part of China that borders Tibet. "We're shooting in a small town because the story is about a man who needed to retreat from the world," explains Chan. "There's no film industry here and the weather can be unpredictable, but it's been quite smooth even though we've had to ship everything in. We have a great team and we're staying quite close to the set."
Other major crew on the film includes production designer Yee Chung Man (Curse Of The Golden Flower), costume designer Dora Ng (Bodyguards And Assassins) and DoP Jake Pollack who worked on Taiwanese gangster film Monga and Chen Kuo-fu's The Message. Production started in August and is scheduled to wrap in about three weeks.
Chan is aiming to release the film in Chinese-speaking territories next summer and says it could also be a festival film. "It's one of those rare occasions where the film will do well in China but should also appeal to festivals and the international market because of the strength of the action and because it's offbeat and quirky while at the same time maintaining the emotion," Chan says.
Next up: Chan has resurrected his plans to direct an adaptation of Ha Jin's novel Waiting about a man who is forced to wait 18 years to escape an arranged marriage and marry the woman he loves. Chan is currently casting and waiting for Chinese censorship approval on the project.