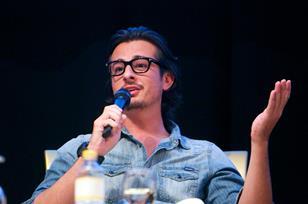 INTERVIEW: Abu Dhabi Film Festival opener to hit the AFM next month and will also screen at the upcoming Cairo International Film Festival.

Abu Dhabi Film Festival (Oct 23-Nov 1) brings the best in world cinema to the region, while its Sanad fund has put local film-makers on the international stage.

Tokyo International Film Festival (Oct 23-31) adds new venues and an increased focus on Japanese exports and Asian links.

Director Daihachi Yoshida tells Liz Shackleton about Pale Moon, his story of a housewife embezzler, the only Japanese film in Tokyo's competition this year

Leonardo Guerra Seragnoli's debut drama Last Summer combines an impressive production team and cast with an intriguing premise.

Writer Jack Thorne and director Tom Harper have reunited once again – this time for the micro-budget political thriller War Book, which received its world premiere at the BFI London Film Festival.

The Emmy-winning, Mexican-born director of TV animation makes his feature directorial debut on the Fox release – guided by none other than Guillermo del Toro.

British director Peter Strickland talks about his first foray into concert films and his latest fiction feature, The Duke of Burgundy.

After Jon Fitzgerald and Brad Parks' philanthropic body Cinecause acquired the Hollywood Film Festival (HFF) in February of this year, the event has received a total make-over and now promotes socially conscious films.

Emu Films' Mike Elliott talks to Andreas Wiseman about the challenges - and rewards - of making the transition from respected AD to feature producer.
pause slideshow

Previous

Next