NFTS launches Lord Attenborough young filmmakers fund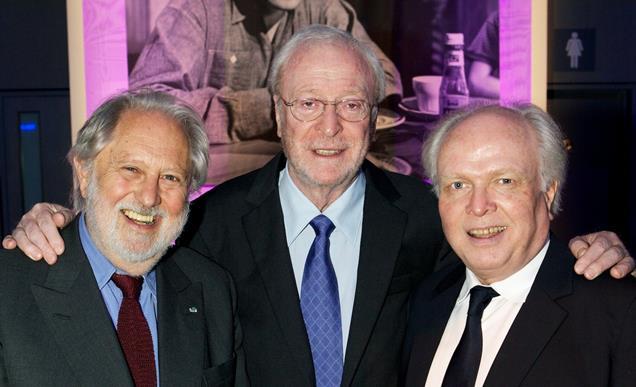 Sir Ben Kingsley and Lord Puttnam among those to honour the veteran British actor-director at the launch of a young filmmakers fund created in his name.
The Lord Attenborough NFTS Charitable fund aims to raise £1m ($1.55m) over two years to "enable talented young people to achieve their ambition as successful filmmakers through world class educational experiences".
It will go towards offering more film-making scholarships to young people from different backgrounds and improving teaching facilities at the NFTS.
The gala dinner, which was hosted by Stephen Fry at Old Billingsgate in London last night (June 11), was introduced by Lord Attenborough's son, theatre director Michael Attenborough, in place of his father, who was unable to attend.
Michael Attenborough said: "It was thanks to a Leverhulme scholarship to RADA at the age of 17, that my father was able to go on to enjoy a career that included acting in, producing and directing more than 70 Oscar and BAFTA winning films, so he is delighted that this new fund in his name will help young film-makers, from all backgrounds, reach their full creative potential."
He then read a message from his father that said: "I really am deeply honoured by the National Film and Television School.
"I started in movies at the age of 19, and now in my 90th year I am truly proud to be still able to contribute to this magnificent art form of ours…
"This fund will will enable the coming generation of filmmakers to dazzle us with their flair, skill and imagination; thus ensuring that the film industry remains at the very centre of British Culture, which is rightly the envy of the world."
The event, named 'Entirely up to you, darling' after his catchphrase, included video link messages from Steven Spielberg, actor Sir Ben Kingsley, and former Prime Minister Sir John Major.
Spielberg, who directed Attenborough in Jurassic Park said: "He's made some of the best movies of all time ­ he made Gandhi ­ and has made such a contribution to society, to cinema and to everyone whose hearts he has touched with his words, works, his leadership and that divine inspiration that radiates from that wonderful smile.
"He's one of my favourite people on the planet."
Former Prime Minister Sir John Major said Attenborough had played a pivotal role in securing National Lottery funding for the UK film industry, which was struggling in the 1990s.
He recalled a conversation the two of them had had when Lord Attenborough drew the Prime Minister's attention to terminology that inadvertently excluded film production from the new National Lottery Bill.
The correction was made and the UK film industry has since benefitted from between £4.5 - £5billion of funding, helping to finance many films that may never have been produced otherwise such as The Kings Speech, The Woman in Black, and Gosford Park.
Major added: "Over the last 70 years, Dickie has devoted himself to the British Film industry, and it should always be remembered that it was his personal intervention, at exactly the right moment, that ensured that something which might not have happened, did happen. The result has been of tremendous benefit to the whole industry. 
"There are many reasons it is right to honour Dickie, but his foresight and crucial intervention over the terms of the national lottery must certainly rank among one of the most important – and will be a lasting legacy to a truly great man." 
Sir Ben Kingsley, who was given the lead role in Ghandi by Attenborough before he'd even had a screen test, won Best Actor at the 1982 Academy Awards where Attenborough also won Best Director and the film picked up a further six Oscars.
He said: "Richard's many gifts – his affection, his extraordinary empathy, his love of fellow human beings – was enhanced during his life as an actor and this empathy and deep knowledge of the process of acting shows itself in the film Gandhi. He is one of the lords of life in my experience…Anyone who is in his sphere of influence is deeply enriched as a human being."
Lord Puttnam, the Oscar-winning film producer, NFTS gala chair and long-time friend of Attenborough, said: "It has been an honour to celebrate the immense contribution made by a man who has helped shape our film and TV industries – in fact our entire cultural landscape both in front and behind the camera as well as in the House of Lords where he campaigned for the Arts to be accessible to everyone."
NFTS director Nik Powell added: "We are deeply grateful to Lord Attenborough for the leadership he has provided and his tireless fundraising. This new Fund will ensure we can continue to deliver world class educational experiences to the best current and future film-makers."
A live auction was conducted on the night with donated items, including a pair of glasses worn by Kingsley in Gandhi and many film items from Attenborough's own collection; costumes worn by Daniel Craig and Naomie Harris in the James Bond film Skyfall; a painting by Scottish artist John Bellany and a portrait of Lord Attenborough by artist Bryan Organ.
As well as Gandhi, Attenborough's directing credits include A Bridge Too Far, Chaplin and Shadlowlands among others. He most recently directed romantic drama Closing the Ring in 2007.
He has acted in around 70 films including Brighton Rock, 10 Rillington Place and Jurassic Park.