Helio Oiticica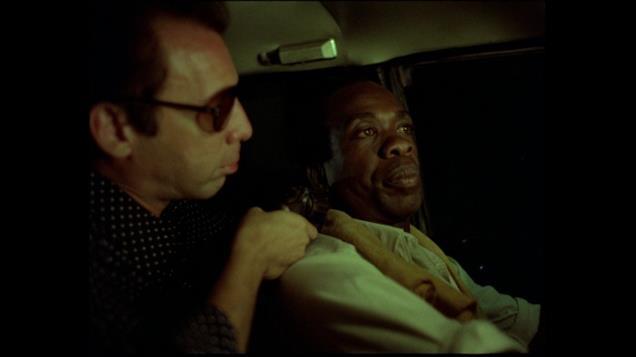 Dir: Cesar Oiticica Filho. Brazil. 2012. 94mins
In Helio Oiticica, the nephew of a Brazilian artist follows the steps of his uncle, who is called Brazil's Andy Warhol. The experimentations by a free spirit who died young are an archival collage of decades of Brazilian culture.
Production values in the feature-length collage of admiration vary widely, from black and white street photography to vivid samba sequences to dark Portopac video.
Outside of Brazil, where Helio Oiticica premiered at the Rio International Film Festival, the documentary by Cesar Oiticica Filho will find an audience in the art world – at museums and at art fairs where Brazilian art is on the rise.  Brazilian stars in the low-budget doc who felt Helio Titicaca's influence – including Gaetano Volos and Gilberto Gil – will help draw attention. Demand beyond Brazil outside the art world could still be minimal.
Helio Oiticica (1937-1980) was a formalist rooted in theory. He was also a populist rebel against the academy and a nationalist who searched for an art incorporating Brazilian styles that could shape performance, music and costumes. That search led him from low to high culture in his own country, and ultimately to New York, and to cocaine addiction. He died of a stroke at 42 – a tragedy not just for Oiticica, but for Brazil.
Brazilians know Oiticica (only they can pronounce his name), yet even for his compatriots the film's archival imagery will be a revelation.  The artist's signature work was the Penetrable, a three-dimensional construction of flat colorful rectangles, which spectators could not only look at, but enter – and eventually project and watch films. These were art installations before that term existed. He also made Wrangles, similar wearable works in fabric. Set to samba, it was favela fashion, and performance art. His goal was to take art out of picture frames and museums, and drape people in it.
There are some familiar contours here. Latin American artists like Diego Rivera journeyed through dominant new styles – imitating everything from Impressionism to Cubism — before arriving at a language of images and subjects that he felt suited Mexico. Beyond that national mission, called Tropically or Tropicalismo in Brazil, Oiticica was also out to bring the masses into the art that he made. It meant assimilating samba, Pop Art and rock and roll (along with the drugs that came for the ride), but it also meant explaining his journey step by step, when the drugs didn't get in the way.  Videos show the boyish experimenter to be nothing like the coyly opaque and distant Warhol.
The other familiar pattern here is the return home of the creative soul who ranges outside for inspiration. Oiticica sought out the work of Jimi Hendrix and of the pioneering filmmaker and multi-media auteur Jack Smith, who himself would die young, under-documented and under-appreciated.
In 1970, Oiticica broke through briefly in the United States. Conceptual art was having a rebirth in an influential exhibition entitled "Information" at the Museum of Modern Art in New York, and the Brazilian artist exhibited a Penetrable with two dozen compartments inside, each with walls of fabric – these were meant to be "cells" that multiplied. Oiticica triggered a tabloid scandal during the show, when a Rockefeller doyenne pulled back one of the fabric walls and found two people having sex inside.
Production values in the feature-length collage of admiration vary widely, from black and white street photography to vivid samba sequences to dark Portopac video. Cesar Oiticica Filho omits much, including his father's early death and the political constraints under military rule. As Oiticica exhibitions (and re-creations of "happenings") multiply, in places like the 2013 Berlinale's Expanded Forum, gaps in the story will be filled in.
Anyone who follows the art world will be struck that much of what Oiticica did or tried to do was prophetic then, and commonplace now. He died too long ago to get much credit outside Brazil.
Production companies: Guerilha Films, VideoFilmes
International sales: Projeto Helio Oiticica, oiticica@mac.com   
Producer: Cesar Oiticica Filho
Cinematography: Felipe Reinheimer