Seduced And Abandoned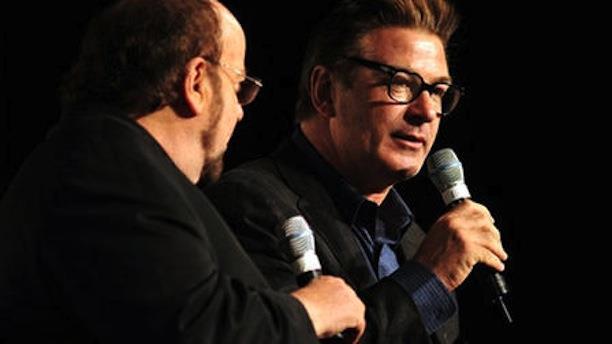 Dir: James Toback. US. 2013. 98mins
The glorious clash between commerce and culture that is the very definition of the Cannes Film Festival (and market) comes into wonderfully stark focus in the entertaining, amusing and occasionally insightful documentary Seduced And Abandoned, which tracks director James Toback and actor Alec Baldwin as they try and raise money for a new film project.
For Cannes regulars it is an enjoyable and funny look at what they know already – that Cannes is a place of contradictions and craziness. But still rather fun.
The pair claim to have plans to make an updated variation of Last Tango In Paris, starring Baldwin in the Marlon Brando role and to be titled Last Tango In Tikrit. Their musings about the state of the film business, stardom and culture lies at the core of their documentary (with both perhaps 'acting' more than a little) as they head to Cannes to delve into the wild and woolly world pre-sales, millionaires and red carpet screenings.
Seduced And Abandoned – taken from Alec Baldwin's comment that "the movie business is the worst lover you've ever had, in the sense that you are seduced and abandoned over and over again" – is a delight for movie insiders, not least for the access and interviews that the pair manage to get. It was picked up by HBO prior to its Cannes screenings, and is an easy it for broadcasters, festivals and niche distributors.
Toback – whose credit list includes The Pick-Up Artist, Fingers and documentary Tyson, which played at Cannes – and Baldwin hold a series of meetings in New York to discuss their project before hot-footing it to the South of France to pitch the project to sales agents. Baldwin, who says he has never been there before, is naturally picked up at Nice airport in an open-top Rolls Royce.
After a bit of background about the Cannes Film Festival itself – with contributions from the festival's artistic director Thierry Fremaux and Positif critic Michel Ciment – they head into the market for meetings with various sellers, including Nu Image's Avi Lerner as well as Mark Damon and Jeremy Thomas. Pretty quickly their budget aspirations are knocked on the head, with the pairing on Baldwin and proposed co-star Neve Campbell not deemed sexy enough to justify a bug budget.
Much of this stuff is played for laughs, though the film gets more interesting and insightful as they sit down with Martin Scorsese, Bernardo Bertolucci and Francis Ford Coppola (who is thoughtful and moving) to talk about directing and making artistically driven projects. Perhaps more surreal are the amusing but ultimately useless meetings they have with millionaires such as Taki Theodoracopulos and Jean 'Johnny' Pigozzi.
Equally fascinating are the scenes of them pitching the project to the likes of Berenice Bejo, Diane Kruger and Jessica Chastain, while a long chat with Ryan Gosling confirms how smart, funny and savvy he is. He tells great stories about the tough and funny realities of breaking into the acting business.
Some great clips help the engaging pace of the film, and while a little scattershot at times with the sidetrack into the nature of film-making with Scorsese, Coppola and Bertolucci clearly more fascinating to Toback and Baldwin than the trawl through the marketplace…amusing though that aspect it. For Cannes regulars it is an enjoyable and funny look at what they know already – that Cannes is a place of contradictions and craziness. But still rather fun.
Production companies Michael Mailer Films, James Toback Films, El Dorado Pictures
International sales Hanway Films, www.hanwayfilms.com
Producers Michael Mailer, Alec Baldwin, James Toback
Executive producers Morris Levy, Alan Helene, Larry Herbert, Neal Schneider
Editor Aaron Yates
Cinematography Jack Donnely, Larry McConkey, Andrew Sachs, Ryo Murakami, Mark Herzig
Music Dimitri Shostakovich
With Alec Baldwin, James Toback, Martin Scorsese, Neve Campbell, Bernardo Bertoclucci, Ryan Gosling, Berenice Bejo, Mark Damon, Avi Lerner, Michel Ciment, Roman Polanski, Francis Ford Coppola