Dir: Christopher Sun. Hong Kong. 2011. 113mins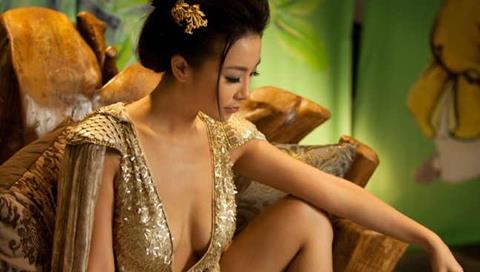 Soft-core sex and violence get the 3-D treatment in this glossy period romp which will likely film a cult audience intrigued by the various appendages unleashed towards them in 3-D, but is unlikely to break into the mainstream outside native Hong Kong and territories where young Chinese expatriates are plentiful. It has opened strongly in Hong Kong, though censorship means it won't play in mainland China and it is likely to be edited in certain other Asian territories.
3D Sex And Zen: Extreme Ecstasy is a film that looks good, makes little sense but is bizarrely watchable.
The title may be more than a little lumbering and the scattershot storyline veers between romance, soft-core sex (as a Category III film it is still relatively tame) and some rather nasty violence, but it all make for engagingly oddball viewing with local audiences likely to appreciate the jokes and references.
The film is also an attempt to kick-start the Sex And Zen movie franchise that was a hit in the 1990s, with Michael Mak's original film 1991 film still regarded as something of a cult classic, largely due to the enthusiastic performance by the well-endowed Amy Yip.
Theoretically based on Li Yu's ancient text The Carnal Prayer Mat (a bit like making a fiction film version of The Joy Of Sex), the film is essentially about the various sexual shortcomings of a series of characters and the extreme measures they take to achieve satisfaction.
Ming Dynasty scholar Yangsheng (Japanese actor Hiro Hayama) marries the beautiful Yuxiang (Leni Lan), and while the blissfully inexperienced couple are initially happy he lacks a couple of things – sexual stamina and a penis of any substance. His shortcomings send him to seek aid from Prince Ning (Tony Ho), a sort of Godfather of sex, whose cliff top cave/home is a cavern of sexual delights.
After various sorts of sexual experimentation, Yangsheng seeks the ultimate sexual assistance…an operation to have his penis replaced with one from a donkey. As in the original film, this is a sequence largely played for laughs but after some surgical misadventures he emerges with a substantially larger member…and ready for action.
Meanwhile Yuxiang is bemused and upset at the disappearance of her husband, and seeks sexual solace with the muscular worker who appears at her family home. Eventually banished from her home she finds her way to Prince Ning and seeks to extricate her hubby from his clutches.
The film's final third largely abandons humour and sexuality and lapses into some rather nasty violence that tends to play against the promotional campaign of it being 'the world's first 3-D erotic film'. But then the mixture of sex and violence has long been a staple of Hong Kong cinema, and will be embraced by local audiences.
There is plenty of female nudity and the glimpse of a penis (but never an erect one) but while there are couplings a-plenty it is never explicit. The 3-D allows for plenty of bouncing breasts to be directed towards the audience, though the best moments involve the mystical and beautiful (though ancient and dangerous) Elder of Bliss (an engaging performance by Vonnie Lui), a hermaphrodite with a flailingly dangerous penis several yards long.
On the whole the performances are never less than okay, with the cast including Japanese adult film stars Saori Hara and Yukiko Suho, though Tony Ho has perhaps the most over-the-top fun as the hiss-worthy evil Prince Ning, a Faustian figure who relishes lording it over the inhabitants of his lair of sex.
3D Sex And Zen: Extreme Ecstasy is a film that looks good, makes little sense but is bizarrely watchable, if only to see what will happen next. Look for it at a midnight slot at a 3-D cinema near you soon.
Production companies: China 3D Digital Entertainment, One Dollar Productions
International sales: Pegasus Motion Pictures, www.pegasusmovie.com
Producers: Stephen Shiu, Stephen Shiu Jr
Executive producers: Stephen Shiu
Co-producer: Ng Kin-huang
Screenplay: Stephen Shiu, Stephen Shiu Jr., Mark Wu, based on the novel The Carnal Prayer Mat by Li Yu
Cinematography: Jimmy Wong
Editor: Azrael Chung
Main cast: Hiro Hayama, Leni Lan, Saori Hara, Yukiko Suho, Vonnie Lui, Tony Ho