Dir: Nikolaj Arcel. Denmark. 2012. 137mins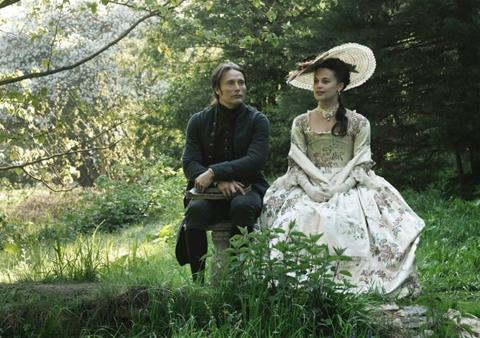 Denmark's much-heralded costume drama set in the royal court of King Christian VII is a richly satisfying affair which tells an extraordinary true story of political change and royal intrigue with impeccable production values, charismatic actors and gorgeous gowns and wigs. Director Nikolaj Arcel (Kings Game, Island Of Lost Souls) doesn't break any new ground here but nor does he get it wrong either, employing a classically romantic sweep and traditional narrative style which befits the story. The Zentropa production has already been a strong seller before its Berlinale competition premiere this week and should be an event arthouse performer throughout the world.
If Mikkelsen is perhaps too brawny to be entirely convincing as the idealistic physician, he still oozes rugged sexuality.
It is most reminiscent of French period pieces like La Reine Margot, Danton, Ridicule or even Benoit Jacquot's Berlin opener Farewell My Queen and there are French parallels in the story as well since, in Denmark a century before the French Revolution, the Danish monarchy was responsible for a radical series of social reforms including the abolition of serfdom, freedom of speech and of the press and a curtailment in the automatic privileges of the aristocracy.
Although short-lived and quickly suppressed, the reforms set the standard for progressive advances across Europe and were applauded by Voltaire among others.
But A Royal Affair (En Kongekig Affaere) is not just a glimpse into a historical chapter little known outside Denmark - it is also an illicit love story between the queen, an English beauty named Caroline, and the king's doctor Johann Friedrich Struensee, a German radical thinker whose commitment to the ideas of the Enlightment ultimately led to his downfall.
As played by the dynamic Swedish newcomer Alicia Vikander and stalwart Danish star Mads Mikkelsen, the characters are the stuff of legend - idealists in love whose own romance is doomed to fail. It's a heady brew of passion, politics and tragedy that Arcel cooks up with the right blend of new-style authenticity and old-fashioned melodrama.
The film begins as Caroline Mathilde (Vikander) arrives in Denmark to marry Christian (Følsgaard), the mentally unstable Danish king who quickly impregnates her but whose childish behavior leaves her lonely and forlorn.
When the king goes on a year-long trip around Europe in 1768, his advisors enlist the German physician Struensee (Mikkelsen) - who is serving the poor of Denmark-controlled Altona in Germany - to help stabilize Christian. Struensee, who has anonymously published large tracts in line with the theories of the Enlightenment thinking, immediately gains the king's trust, becomes his personal physician and returns with him to Denmark.
Back in the royal court in Copenhagen, Struensee realises that the king is a pawn of the aristocrats and the church who continue to oppress the masses. He begins a passionate affair with the queen and the two of them engineer a coup whereby the foolish king takes control over state affairs and Struensee dictates new policies.
But when the queen becomes pregnant by Struensee and rumours start to swirl, Struensee finds himself the target of the disgruntled aristocracy who use his new freedom of speech laws to besmirch his name and disgrace the queen. Struensee's downfall in 1772 is as inevitable as the abuse of power in which he himself indulges.
If Mikkelsen is perhaps too brawny to be entirely convincing as the idealistic physician, he still oozes rugged sexuality and Vikander's intelligent, sexy young queen is his perfect match. They are both perhaps upstaged by Folsgard, whose unhinged king becomes increasingly endearing as the story goes on.
Production company: Zentropa Entertainments
International sales: TrustNordisk, www.trustnordisk.com
Producers: Louise Vesth, Sisse Graum Jørgensen, Meta Foldager
Executive producers: Lars Von Trier, Peter Aalbaek Jensen, Peter Garde
Screenplay: Nikolaj Arcel, Rasmus Heisterberg
Cinematography: Rasmus Videbaek
Production designer: Niels Sejer
Editors: Mikkel EG Nielsen, Kasper Leick
Music: Gabriel Yared, Cyrille Aufort
Main cast: Mads Mikkelsen, Alicia Vikander, Mikke Boe Følsgaard, Trine Dyrholm, David Dencik, Thomas Gabrielsson, Harriet Walter