Dir: Carlos Moreno. Colombia. 2011. 90mins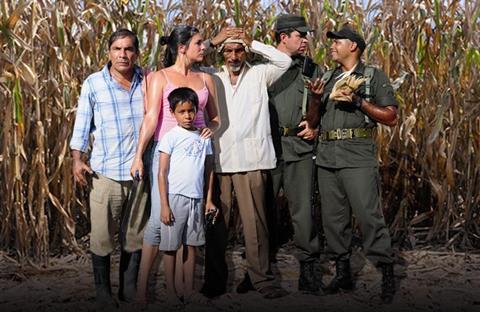 The plot to Carlos Moreno's might well be shockingly slight, but All Your Dead Ones (Todos Tus Muertos) is a visually impressive film that wears its allegories on its sleeve and succeeds in delivering jolts of dark humour amidst the absurdly surreal story.
There are moments of absurdist humour in this new film from Carlos Moreno.
In truth there may be less there than meets the eye, but it is impressively made and full of striking visual moments and even has odd moments of humour in amidst the dark strangeness of the goings-on. The film – which played in competition at Sundance and Rotterdam – is likely to have a healthy life at other festivals.
The film opens with a burst of sexuality as a Colombian farmer Salvador (Alvaro Rodriguez) engages in a little enthusiastic sex with his wife behind the mosquito net covering their bed. In the morning he heads off into his cornfield to cut down some crop, only to come across an enormous pile of bodies in the middle of the field.
Telling his wife and young son not to venture into the field, he grabs a bicycle and heads off to the local town. Making his report to the local authorities is not so easy though because it is also Election Day, but he eventually manages to convince the local militia chief and mayor of Andalucia to come and see his pile of bodies.
After much debate the mayor and militia chief decide that the bodies are not local ones, and arrange for a truck to come and take the corpses away. The film ends with a group of schoolchildren coming across the same pile of bodies in the middle of a rural football pitch.
There are moments of absurdist humour in this new film from Carlos Moreno (who made Dog Eat Dog), but the thinness of the story means that it quickly loses appeal. It might actually have made a great short film, but needs a little more plot and structure to convince as a feature.
The most engaging moment comes with the closing credits. In an overhead shot the pile of bodies disentangle and the performers line up, with the rest of the cast arriving to take their bow just like a stage production.
Production companies: 64-A Films, Caracol TV/Dago Garcia Productions, Antorcha Films, Hangar Films
International sales: Shoreline Entertainment, www.shorelineentertainment.com
Producer: Diego F. Ramirez
Executive producers: Nancy Fernandez, Diana Bustamante
Screenplay: Alonso Torres, Carlos Moreno
Cinematography: Diego F. Jimenez
Editors: Andres Porras, Carlos Moreno
Production designer: Hernan Garcia
Music: Jose Garrido
Main cast: Alvaro Rodriguez, Jorge Herrera, Martha Marquez, Harold De Vasten, John Alex Castillo