Dir: Isaac Florentine. US. 2012. 91mins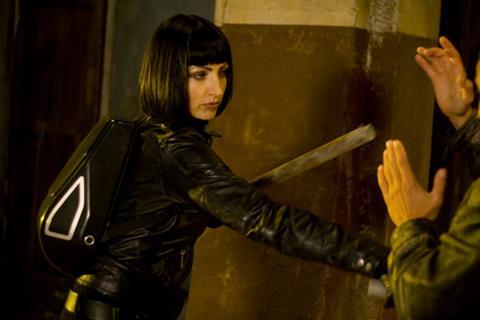 Smart Bulgarian locations, a strongish cast and a dash of female assassin action help make Assassin's Bullet a tantalising – if all rather predictable – action thriller, driven mainly by some game enthusiasm from lead actress Elika Portnoy, who was involved in scripting this vehicle for her talents.
There are moments of frenetic gunplay and martial arts action.
Christian Slater, Timothy Spall and Donald Sutherland help give this Euro-set thriller a dash of class, but there is not getting away from that fact that it is more straight-to-home entertainment B-movie fare, despite a brief US theatrical platform from August 3.
Portnoy, who is in Femme Nikita mode for Assassin's Bullet, stars as a troubled assassin named Vicky – a suicide bomber killed her parents when she was a child – who is on a mission to take out Muslin jihadists.
In the Bulgarian capital of Sofia she comes across then equally damaged former FBI agent Robert (Christian Slater), who has headed to Eastern Europe in a bid to get over the shooting of his wife some four years earlier.
There are moments of frenetic gunplay and martial arts action (director Isaac Florentine is an old-hand at action fare) and Portnoy gets to try on a series of different wigs (and show off her belly-dancing skills while in disguise) and while she has a certain charm the likes of Angelina Jolie or Maggie Q have little to worry about in terms of action-star competition.
Christian Slater – whose A-list days now seem long in the past – takes it all appropriately seriously, though Spall and Sutherland offer little in their fleeting cameo roles.
Production companies: Mutressa Movies, XLRator Entertainment
International sales: Atlas Intl., www.atlasfilm.com
Producer: David E. Ornston
Screenplay: Hans Feuersingner, Nancy Babine, from a story by Elika Portnoy.
Cinematography: Ross Clarkson
Editor: Irit Raz
Production designer: Valya Mladenova
Music: Simon Stevens
Main cast: Christian Slater, Elika Portnoy, Donald Sutherland, Timothy Spall, Valentin Ganev, Vasil Mihaylov, Mariana Stanisheva, Ivaylo Geraskov, Marian Valev, Kiril Efremov