Dir/scr: Athina Rachel Tsangari. Greece. 2010. 95mins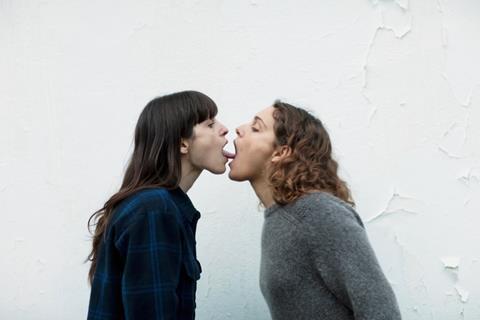 An intellectual exercise treating human beings as pawns to be moved on a chessboard, ATTENBERG is a keen attempt to look at the human race just like Sir David Attenborough observes all the other species in nature… with a dispassionate eye and sincere wish to understand and analyse them in detail. Indeed, several clips of Attenborough's shows are featured in the film, and its title is an intentional mispronunciation of the British scientist's name.
Festivals, art houses and many film critics will be falling head-over-heels for this picture.
Director-screenwriter Athina Rachel Tsangari may very well have one or more very important statements to make in this film, but she most certainly hasn't managed to present a story.
Festivals, art houses and many film critics will be falling head-over-heels for this picture, just as they did for an earlier exercise, Dogtooth, presented by Tsangari, then acting as a producer, a couple of years ago in Cannes and awarded the top Un Certain Regard prize. The director of that picture, Yorgos Lanthimos, is returning the compliment not only being one of the producers here but also playing one of the leads.
As Tsangari herself puts it, this is a film about four people, at times reduced to two and at times three. Duly separated from the rest of the world and closely observed in long, uninterrupted shots, like guinea pigs in a laboratory, they are fed impulses to which they have to respond, usually verbalising these responses to make sure there is no misunderstanding.
Camera and microphones register everything in an almost scientific manner, reaching through them conclusions referring to such weighty matters as human sexuality, evolution, decadence and particularly the origins of the species.
Marina (Ariane Labed), a 23 year-old misanthrope, suspicious and repelled by her fellow men - or at least so she claims - is a perfect innocent in all sexual matters, but is curious enough to find out more about it from her best friend, Bella (Evangelia Randou), for whom sex has no secrets.
The only other person close to her is her father Spyros (Vangelis Mourikis), an architect treated for a cancerous tumor who will die before the end of the film. Affectionate to Marina but disappointed with the world as he perceives it, willing to strike off the record the "overrated" 20th century he is about to leave, and an atheist who insists on discussing with his daughter, despite her protests, all the necessary arrangements to be made for the cremation of his body.
The fourth person participating in this exercise is a young engineer (Lathinos) approached by Marina to have sex with, in the same spirit of almost scientific curiosity, despite her natural repulsion for the act itself ("a piston moving in and out").
The background consists of a disaffected industrial complex that looks abandoned most of the time, a building site and several bland, impersonal rooms, including one in a hotel and another in a hospital, doing nothing to reflect on the substance or social circumstances surrounding the characters.
Shot in a clinical manner, Tsangari's approach drains any risk of emotion, particularly in the early stages, as it uses dialogue in a dry sarcastic manner and underlining the animalistic aspects of the human race whenever there is a chance for it.
It is only towards the end, after Marina's affair with the visiting engineer reaches something more than a mechanical dimension and the death of her father takes its toll on her, that the sarcasm is finally toned down, allowing something like real humor and authentic sorrow to penetrate in.
Production company: Haos Film
Producers: Maria Hatzakou, Yorgos Lathimos, Iraklis Mavroidis, Athina Rachel Tsangari, Angelos Venetis
Executive producer: Christos V. Konstantakopoulos
International sales: The Match Factory, www.the-match-factory.com
Cinematography: Thimios Bakatatis
Production designer: Dafni Kalogianni
Editors: Sandrine Cheyrol, Matt Johnson
Main Cast: Ariane Labed, Vangelis Mourikis, Evangelia Randou, Yorgos Lanthimos