Dir: Giovanni Giommi. Germany-UK. 2011. 82mins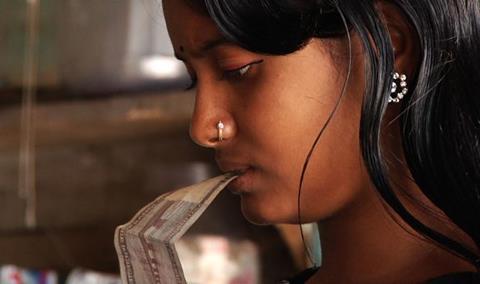 Banishanta Island in the Bay of Bengal, south of Bangladesh, is 100 metres long and 10 metres wide and is made up of a community of sex workers. This documentary tells the story of its inhabitants as they struggle with their livelihood and forces of nature which are slowly causing their island to figuratively and literally erode.
The female central characters in the film are compelling.
Premiered in competition at the 54th Dok Leipzig Festival, the film's strong human rights message should attract some interest, especially from festivals and distributors with a social campaigning bent. But it may struggle slightly to stand out from the crowd.
The female central characters in the film are compelling, being allowed to tell their stories about their lives as sex workers in a way that is matter-of-fact and avoids the sensational. Scenes in which customers visit the island are alternately unsettling and remarkable in their everydayness, and these juxtapositions between the perceived notion of sex workers and the reality of their situations is when the film is at its most interesting.
As powerful as the women's stories are, one never really feels convinced about what Giommi is trying to achieve in the film. Long, languid shots of the island – which are admittedly beautifully filmed – coupled with appearances from other characters who live on the island, serve to muddy the story rather than enhance it and, ultimately, the film sometimes feels somewhat lacking in coherence.
A film that has undoubted intriguing moments and important issues to discuss but it never quite hangs together to make it a truly satisfying piece of work.
Production companies: ma.ja.de
International sales: Deckert Distribution, www.deckert-distribution.com
Producers: Heino Deckert
Cinematography: Giovanni Giommi
Editor: Fabio Capalbo