Dir/scr: Frank Piasecki Poulsen. Den-Ger. 2010. 82mins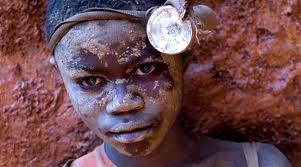 Danish documentary maker Frank Piasecki Poulsen sets off to track down the source of the 'blood minerals' that are mined in the Congo and used for the micro-electronics in mobile phones.
The dark heart of the film is his footage from deep in the Bisie mine.
Frustrated that mobile phone market leader Nokia (based in Finland) don't seem to want to take social responsibility, he follows the trail to the restricted Bisie mine deep in Congo where miners work in terrible conditions to extract cassiterite used in mobile phones (and other electronic equipment).
A thought-provoking and often grim film, which had its international premiere at IDFA in Amsterdam, it looks set to receive theatrical releases in certain territories and will be interesting to broadcasters and other film festivals.
Poulsen is the front of camera narrator as well as the behind-the-camera director, and is gamely enthusiastic about knocking at the door of Nokia (which politely rebuffs him), though rightly expresses concern about journeying into the heart of Congo (naturally we get a few Joseph Conrad-style Heart Of Darkness references), especially when the brutal reality of ethnic conflict grows very real.
He also peppers the film with some striking visual moments, such as his charter flight touching down on a remote and battered road (in a scene that could have come from The Constant Gardener or Air America) or his negotiations with various army warlords.
The dark heart of the film is his footage from deep in the Bisie mine where miners work in sweaty and dangerous conditions to carve out by hand small amounts of valuable cassiterite. The film literally looks as if it is descending into hell, with some of the miners angry at his presence in their midst.
Though Poulsen as a mobile phone user understands that his need for the technology might well be costing lives, he finds he can do little to really make a breakthrough. There are times when his narration tries a little too hard to focus on the possible brutalities of the system, but there is no denying his passion and commitment.
Production companies: Koncern TV & Filmproduktion, Gebrueder Beetz Filmproduktion, Chili Film, Danish Film Institute, VPRO, NRK, YLE, ERT, WDR
International sales: DR International Sales, www.dr.dk
Cinematography: Frank Piasecki Poulsen, Lars Skree, Adam Wallensten
Editor: Mikael K Ebbesen
Music: Kristian Eidnes Andersen
Website: www.bloodinthemobile.org