Dir: Noémie Lvovsky. France. 2012. 120mins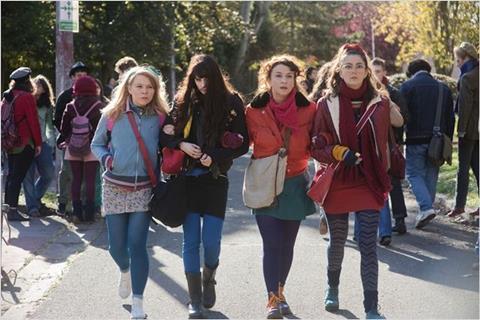 A middle-aged woman finds herself magically zapped back in time and given another chance to live life all over again, first love and all. Sound familiar? Camille Rewinds is essentially a Gallic Peggy Sue Got Married, although what seems like a shameless steal is mitigated knowingly by setting the principal action in the mid-80s, around the 1986 release date of Francis Coppola's retro romance.
The likeable Lvovsky visibly has the time of her life.
The familiarity may not matter so much with French audiences - the film is released domestically this October - and the main draw will be the mix of a female-angled premise with much-loved local faces. Otherwise, hit-and-miss feminist comedy, soft-centred cheeriness and offputtingly lurid colour scheme will make Camille Rewinds a limited export, except where there's a market for broader French entertainment.
In fact, the very mainstream tenor is surprising given the upmarket credentials of director/star/co-writer Noémie Lvovksy who, as well as collaborating as a writer with the likes of Arnaud Desplechin and Philippe Garrel, has her own pedigree as a director of highly-rated and ather subtler films, notably Oublie-Moi (1994). Of late, she's also become unavoidable in front of the camera, recently appearing in Benoît Jacquot's Farewell My Queen and Bertrand Bonello's House Of Tolerance. In her own star vehicle, she's ditched the arty register in favour of a crowd-pleasing comedy in which she plays a 40-year-old unsuccessful actress whose husband Eric (Guesmi) is about to leave for a younger woman.
Waxing melancholic over chances missed, the heavy-drinking Camille collects her watch from repairs, to find the mender (Jean-Pierre Léaud, wild-eyed even by his standards) has deliberately set it a second out of sync. Passing out at a party, Camille magically finds herself transported back to age 16, still living with her parents (Moreau, Vuillermoz) but inhabiting her 40-year-old body.
Camille doesn't take long to adjust to the comic absurdity of her situation, and the complications are predictable: her parents' bafflement, her habit of casually mentioning that she's a long-married mother, her ungainly deportment in an 80s wardrobe of ra-ra skirts and eye-searing tops. When Camille hangs out again with her best friends, none of whom can see her real 40-year-old physique, it's a chance to party down like she used to.
Cue much retro jukebox action and highly rehearsed dance floor action, through which Lvovsky grins with distracting abandon. She also strikes up anew her romance with high-school beau Eric (Guesmi in a ludicrous teen coiff). This time, however, Camille gives him the runaround while she makes out with a nervous teenager (in a scene whose potential perversity is cautiously toned down) and pursues her science teacher (Denis Podalydès, currently replacing Mathieu Amalric as French cinema's Mr Ubiquitous).
The performances are, at worst, dependably lively, and at best very engaging - especially Anthony Sonigo as Camille's awkward teen conquest. The likeable Lvovsky visibly has the time of her life, but tones down the exuberance to interact poignantly with other players in those scenes where Camille ponders her newly (re)acquired life lessons - notably with Moreau, impressive as the mother whom Camille knows will soon die. But the film is awkward negotiating the twin registers of knowing goofiness and philosophical subtlety, and the result is a sometimes grating bagatelle.
Production companies: F Comme Film, Ciné, Gaumont
International sales: Gaumont, www.gaumont.fr
Producers: Jean-Louis Livi, Philippe Carcassonne
Screenplay: Noémie Lvovsky, Florence Seyvos, Pierre-Olivier Mattei, Maud Ameline
Cinematography: Jean-Marc Fabre
Production design: Frédérique Lapierre
Editor: Michel Klochendler
Main cast: Noémie Lvovsky, Samir Guesmi, Yolande Moreau, Michel Vuillermoz, Denis Podalydès