Dir: Arild Andresen. Norway. 2012. 104mins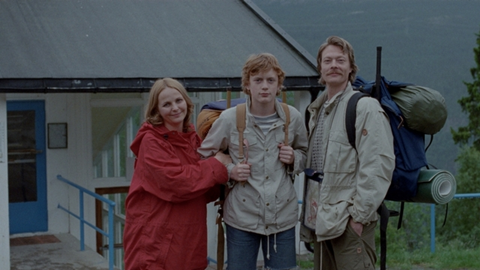 The winner of the best Nordic film prize at the Gothenberg International Film Festival this year is a finely tuned portrait of damaged childhood from Norway that marks out second-time director Arild Andresen as a significant talent to watch. Beautifully written and acted, the film offers penetrating insight into the painful longterm effects of alcoholism and abuse on a family, and especially the young boy Jarle at its centre.
Most memorable of all is Kristoffer Joner who captures all the complexities, pathos and menace of the controlling father.
In Norway, where it opens on March 2, it stands to make an impression at the box office bearing in mind it is based on a local bestseller by Tore Renberg and the third in a trilogy of films about the Jarle character (a sort of Norwegian Antoine Doinel), although chronologically, it is the first.
Outside Norway, its commercial prospects are uncertain, especially because it falls into a long tradition of "troubled kids" films coming out of the Nordic region that last year alone saw Beyond, Oslo August 31, Play and Sons Of Norway. The film's strong traditional storytelling and well-observed direction may not be enough to mark it out in the brutal market for world cinema these days. Hopefully it will score exposure on the festival circuit and any discerning festival programmer should check it out.
The film is bookended by adult Jarle Klepp (Larsen, who played the same character in The Man Who Loved Yngve and I Travel Alone) finding out that his father has died. Most of the running time takes place in the mid-80s with teen Jarle (then Jarle Orheim) growing up in Stavanger with his father Terje Orheim (Joner) and mother Sara (Mosli).
A well-respected school inspector, Terje is a dominating man prone to impose his own opinions and desires on his wife and son. We first witness his brutality when he prevents Jarle from watching Live Aid in July 1985, instead forcing him to go on a bike ride and making him stand outside while he gets drunk at the house of a friend.
The film traces Jarle as he navigates the increasingly difficult home situation – the drinking becomes more frequent, his mother gets beaten repeatedly, she moves out, his father gets sober, there is a reunion, he falls off the wagon again etc - and his burgeoning independence at school as a sexually and politically motivated young man.
The family situation reaches a turning point when a repentant Terje persuades Sara and Jarle to accompany him on a camping trip to retrace the steps of some famous WWII saboteurs and regroup as a family unit (aka "Company Orheim").
Andresen, whose debut The Liverpool Goalie played in Berlin in 2011, has an authentic feel for the teen Jarle character and all the emotions battling for supremacy as his adult character emerges to take on his father. Newcomer Vebjorn Enger is appealing as the boy. Most memorable of all is Kristoffer Joner who captures all the complexities, pathos and menace of the controlling father, a pathetic figure who cannot hold onto his family in the face of his all-consuming addiction.
Production company: Motlys
World sales: NonStop Sales, www.nonstopsales.net
Producers: Yngve Saether, Sigve Endresen
Screenplay: Arild Andresen & Lars Gudmestad, based on a novel by Tore Renberg
Cinematography: Philip Ogaard
Editor: Vidr Flataukan
Music: Aslak Hartberg
Main cast: Vebjorn Enger, Kristoffer Joner, Cecilie Mosli, Glenn Andre Viste Boe, Eili Harboe, Henrik Mestad, Rolf Kristian Larsen