Dir: Tony Krawitz. Australia. 2012. 83mins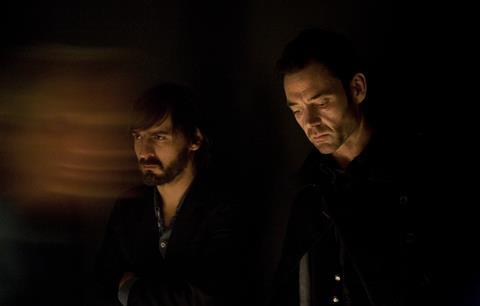 With a cast of damaged, lost and unsympathetic characters — and perhaps the most unalluring title of the year — Dead Europe is niche arthouse and festivals fare, demandingly bleak but made with aggressive style and high technical skill. Tony Krawitz's debut fiction feature also has multiple international locations, starting in Sydney then exploring the seedy sides of Athens, Paris and Budapest.
Krawitz has a telling eye for location details and uses handheld close-ups to strong effect.
Following its initial appearance in competition at the Sydney Film Festival a local release date is yet to be announced. Drugs scrambled and sexually explicit, it requires an attentive audience prepared to be challenged.
Based on a provocative novel by Australian Christos Tsiolkas, whose 2009 The Slap was the basis for an internationally acclaimed six-part TV series, Dead Europe deals with an openly gay Greek/Australian confronting his family roots. The 2005 novel, not an obvious choice for filming, received a mix of reviews — some ecstatic, some horrified, some a mixture of both. The same may well apply to this movie version.
With Louise Fox's adaptation, Krawitz streamlines the novel's complex narrative. Arty photographer Isaac (Ewen Leslie), invited to exhibit his work in Athens, is disturbed by the manic reaction of his father Vasili (William Zappa) who then commits suicide in the family car. When Isaac determines to take Vasili's ashes back to the Greek village from where he came, his mother is appalled. She speaks of an 'evil eye' and a family curse.
Details of a dark secret emerge as Isaac visits relatives in litter-strewn, violent Athens, then meets some grimly inhospitable folk in the remote mountain village. An unlikely trail leads him to Paris and Budapest, similarly seedy, similarly packed with suspicious locals and wretchedly abused displaced refugees. A beautiful teenager (Kobi Smit-McPhee from The Road) keeps appearing and disappearing. The sexual encounters get nastier, then very nasty indeed.
Krawitz, who made the award winning short film Jew Boy (2005) also with the handsome, deeply committed Ewen Leslie as his lead, has a telling eye for location details and uses handheld close-ups to strong effect. The snatched camerawork (German McMicking), fast editing (Alexandre De Franceschi, Scott Gray) and unsettling score (Jed Kurzel) are of high quality. But if the Sydney Festival audience were hoping for an even slightly hopeful ending they were to be disappointed.
Production company: See-Saw Films
Aust/NZ distribution: Transmission Films
International sales: Wild Bunch, www.wildbunch.biz
Producers: Emile Sherman, Iain Canning, Liz Watts
Screenplay: Louise Fox, based on the novel by Christos Tsiolkas
Cinematography: German McMicking
Editors: Alexandre De Franceschi, Scott Gray
Production designer: Fiona Crombie
Music: Jed Kurzel
Main cast: Ewen Leslie, Marton Csokas, Kodi Smit‐McPhee, Jean‐Francois Balmer, Igal Naor, William Zappa, Francoise Lebrun, Thanos Samaras, Danae Skiadi