Dir/scr: Sven Halfer. Germany. 2013. 104mins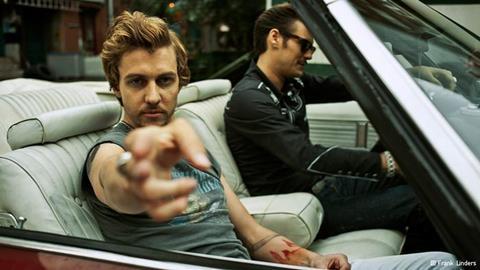 An engagingly bonkers rockabilly genre romp, German film DeAD veers breezily between pyscho drama and bloody revenge tale, and while its low-budget origins hamper its cult ambitions there are certainly moments to enjoy as the storyline gets more and more deranged.
Perhaps best of all are Judith Rosmair and Ruby O Fee as the mother and daughter who are drawn into the web of lies and deceit.
DeAD, which screened in the New German Cinema section at the Berlin Film Festival, opens with some snappy graphics to set up its story of the plans of Patrik (Tilman Strauss) and Elmer (Niklas Kohrt) as they set out to take manipulative revenge on the man they think is Patrick's father, and who abandoned his mother.
Patrick blames the man for his mother's suicide, and with an obsessive determination he tracks down one Dr Reimund Borz (Thomas Schendel), who he believes had a brief affair with his mother and left her as soon as the passion subsided.
Patrick and Elmer make for rather conspicuous stalkers – both sport tattoos, quiffs and drive a red American convertible – but somehow manage to get their way into Borz's 60th birthday dinner that he is sharing with his second wife Judith (Judith Rosmair) and sexy teen daughter Romy (Ruby O Fee). Patrik manages to convince Borz that he is, in fact, his long lost son, and also sets about trying to manipulate this very fractured family.
Things get all the more complicated when Borz's first wife Birgit (Suzanne von Borsody) and his son Holger (Tobias Kay) arrive to reluctantly join in with the celebrations. Things get seriously odd at this stage, with Judith and Romy getting more and more alienated from Borz (and embracing sultrier attire as the film goes on) and Brigit instinctively distrusting Patrik, with the film spiraling into death and destruction as it embraces its cultier sensibilities.
Tilman Strauss is engagingly twisted as Patrik, and has some fine conniving moments, though perhaps best of all are Judith Rosmair and Ruby O Fee as the mother and daughter who are drawn into the web of lies and deceit. The majority of the film is set in Borz's Hamburg home, which helps keep down shooting costs, but means that for the second half feels a little too enclosed and contrived, which hems in the drama rather than letting it explode.
Production companies: Skalar Film, Better Days Production
Sales contact: Skalar Film, www.skalarfilm.de
Producer: Rike Steyer
Co-Producers: Sven Halfer, Jenny Nesselhauf
Cinematography: Carol Burandt von Kameke
Editor: Angela Tippel
Music: Nils Kac
Main cast: Tilman Strauss, Thomas Schendel, Judith Rosmair, Niklas Kohrt, Ruby O Fee, Suzanne von Borsody, Tobias Kay