Dir: Ian FitzGibbon. Ireland-Germany. 2011. 96mins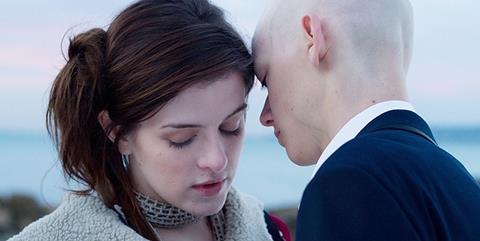 The heady dramatic combination of comic-strip art, cancer, romance and coming-of-age works to pretty good effect in Ian FitzGibbon's astutely made film, which blends live action with animation to tell the story of a young would-be graphic artist who knows that death is just around the corner.
Kudos should go to director Ian FitzGibbon to making a film that is compassionate yet astute.
The story may sound like it is something of a downer, but there is much to admire in its clever switches between live-action and animation, all driven by a strong series of central performances. It is a sad but rather watchable film that could well appeal to distributors drawn to its impressive cast and moving storyline.
Thomas Brodie-Sangster is impressive – though never wallows in sentimentality – as Donald, a young Dublin teen who is gaunt, bald and tired from his chemotherapy sessions who tries to deal with his situation through his illustrations and his imagination, represented by the animation that sees him as a muscular hooded figure dealing with buxom beauties and evil villain The Glove.
Brodie-Sangster (who made his first impact in 2003 playing Liam Neeson's love-struck son in Love Actually) makes a fine transition to an almost-adult role, ably portraying a young man struggling to deal with adolescence (girls and usual teen angst) while also managing the physical and psychological pressures of his cancer.
His parents – Michael McElhatton and Sharon Horgan (best known for her comedy TV roles, but movingly impressive here) – love him and are doing all they can to offer options, but when a coming-of-age story is to be told, not even cancer can stand in the way.
Donald finds affection and a kind of kinship with Shelly (Aisling Loftus, from Oranges And Sunshine), a dry but astute teen who cuts through the shell of his façade – hat to cover his baldness and drawings to cover his pain – and makes him feel alive and a real teenager (with all of the emotional angst that brings along with it).
Perhaps most impressive, though, is Andy Serkis – perhaps best known for his roles in Rise Of The Planet Of The Apes and The Lord Of The Rings films – who wisely underplays his (what could have been clichéd) role as the therapist that Donald goes to see. The two form a convincing and subtle bond that amounts to an oddly profound centre for the film to build on.
Though sadness is at the core of Death Of A Superhero (adapted by Andrew McCarten from his own novel and relocated from New Zealand to Dublin due to the involvement of Grand Pictures and the Irish Film Board), the film never wallows in gloom or strives for easy sentimentality. Even moments that might be simplistic in other films – teen mates bonding and talking about sex, parents at the bedside and even a plan for Donald to lose his virginity to nicest prostitute (Jessica Schwarz) the screen has seen for a while – are convincing here.
Kudos should go to director Ian FitzGibbon (who made Irish gangster film Perrier's Bounty) for making a film that is compassionate yet astute and moving yet challenging. He even gets that mixture of animation into the story just right…which is hard enough in itself.
Production companies: Bavaria Pictures, Grand Pictures production, Picture Circle, Cinemendo/Trixter, CinePostproduction, Bavaria Film
International sales: Bavaria Film Intl., www.bavaria-film-international
Producers: Astrid Kahmke, Philipp Kreuzer, Michael Garland
Executive producers: Matthias Esche, Jan S. Kaiser, Anthony McCarten, Paul Donovan
Co-producers: Mark Porsche, Michael Coldewey, Christian Sommer
Screenplay: Anthony McCarten, based on his novel.
Cinematography: Tom Fahrmann
Editor: Tony Cranstoun
Production designer: Mark Geraghty
Music: Marius Ruhland
Main cast: Thomas Brodie-Sangster, Andy Serkis, Aisling Loftus, Michael McElhatton, Sharon Horgan