Dir/scr: Romana S Diaz. US. 2012. 114mins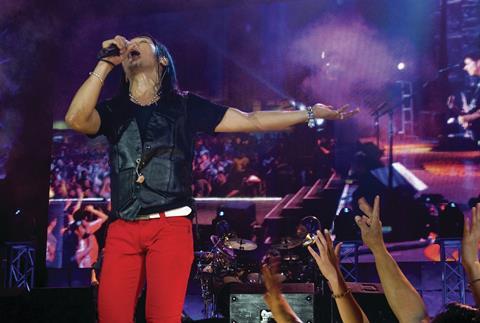 Impressively entertaining and gently uplifting, Ramona Diaz's 'rags to riches' rock documentary will appeal to music and film fans alike as it charts the real-life story of how a young impoverished singer from Manila became the lead singer of a classic-rock supergroup.
The film is a great bit of rock-doc entertainment.
It also acts the perfect advert for the powers of YouTube…because it was here that Neal Schon, guitarist for Journey (whose 1981 hit Don't Stop Believin' is apparently the most downloaded of all 20th-century songs) spotted Arnel Pineda singing covers of Journey songs while Schon was desperately searching for a new singer of the band.
Though the film – which had its world premiere at the Tribeca Film Festival – would benefit from being a bit shorter, it is still a great bit of rock-doc entertainment, and would stand a platform release in countries where Journey are known, and would be an easy fit for broadcasters.
What keeps the film flowing is the innate and modest charm of longhaired Pineda, who just can't believe he gets the chance to live his dream. Fairly linear in structure, the film starts at the very beginning with the engaging and open Schon describing how he was desperately searching for a new lead singer and came across Pineda late at night while surfing YouTube.
Flown over to audition for the band Pineda – slight of build but with a powerful voice – wins over the gnarled old band members and before you know it he finds himself on tour, performing to massive crowds and suddenly becoming an icon to the Filipino ex-pat communities around the US.
The film blends nicely shot 'behind-the-scenes-with-the-band' footage with thoughtful interviews with Pineda as he describes his childhood and early days as a singer, when he supported his entire family. The balance between the excesses of the rock'n'roll lifestyle and his self-awareness of where he came from gives the film its heart, while his grandstanding vocal performances gives it the soul.
Production companies: CineDiaz, Inc., Defining Entertainment, Game 7 Films, Arcady Bay Entertainment.
International sales: Visit Films, www.visitfilms.com
Producer: Ramona S. Diaz
Executive producers: Capella Fahoome Brogden, John Baruck, Joshua Green.
Associate producers: David Paterson, Choi, John Paterson, Nick Detisch Cinematography: Gabriel Goodenough, Julia Dengel, Vincente Franco, Boy Yinguez
Editor: Leah Marino
With: Arnel Pineda, Neal Schon, Jonathan Cain, Ross Valory, Deen Castronovo, Cherry Pineda, John Baruck, Noel Gomez, John Toomey, Tim Rozner