Dir: Menhaj Huda . UK. 2011. 94mins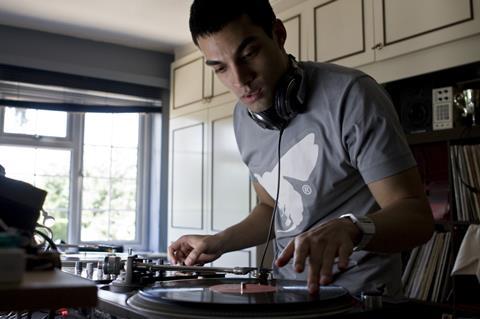 The second feature from Kidulthood director Menhaj Huda, Everywhere & Nowhere effectively addresses issues of Anglo-Asian identity and conflict within a classical drama of misunderstood youth whose lineage ranges from Rebel Without A Cause to 8 Mile.
A strong ensemble cast is nicely balanced between newcomers and old pros.
The hackneyed, soap-opera-ish plotting is offset by Huda's energetic direction, a charismatic lead performance from James Floyd and a pulsating soundtrack by The Angel. Smart marketing should transform the positive elements into a successful theatrical release among young, urban audiences.
Floyd gives an attractive star performance as Ash, a British Asian teenager who feels himself surrounded by lies and hypocrisy. Under pressure to follow the demands of his domineering father, his passion is to become a DJ. Huda captures the club scenes with a good deal of sweaty authenticity.
Struggling to find his own voice, Ash is surrounded by peers leading double lives torn between the expectations of their traditional families and their true desires.
The script by Gurpreet Bhatti and Huda ticks all the expected boxes of generational clashes, identity crises, police harassment, sex, drugs and double-standards but also adds welcome touches of humour.
A strong ensemble cast is nicely balanced between newcomers and old pros like Saed Jaffrey and Art Malik with noteworthy support from Adam Deacon as the caring Zaf and Neet Mohan as the frustrated, mixed-up Riz.
The film commendably avoids tying up all the loose ends by opting instead for a satisfying but open-ended finale.
Production companies: Arena Productions/Prime Focus
International sales: Stealth Media Group, www.stealthmediagroup.com
Producer: Sam Tromans
Screenplay: Gurpreet Bhatti, Menhaj Huda
CInematography: Brian Tufano
Production designer: Murray McKeown
Editor: Stuart Gazzard
Music: The Angel
Main cast: James Floyd, Adam Deacon, Alyy Khan