Dirs/scr: Adam Sikora, Ingmar Villqist. Poland. 2010. 108mins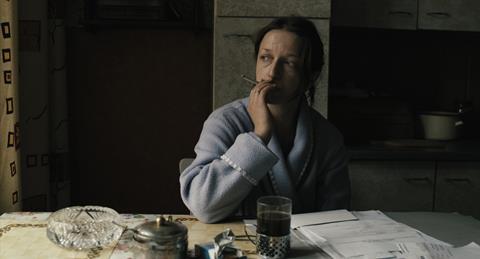 The drama in Adam Sikora and Ingmar Villqist's tough film Ewa is straightforward and moving. A woman is faced with harsh poverty and does whatever she can to try and provide for her family, but finds herself spiraling into moral abuse and despair.
Ewa might lack originality or directorial verve, but it works as a piece of drama.
It is not a new story, but it is a film elegantly structured, beautifully shot and dominated by a harrowingly powerful performance by Barbara Lubos-Swies as Ewa – a wife and mother who does whatever she can to keep poverty at bay. Ewa might lack originality or directorial verve, but it works as a piece of drama and could well feature at discerning film festivals. The film premiered at the Era New Horizons Film Festival in Wroclaw, Poland.
The film opens with images of a woman staggering through the cobbled streets, her face bloodied and looking for help at the house of a friend. The story that flashes back to delve how Ewa found herself in this position.
Ewa works in a local shop while her husband scavenges for materials with three friends, but times are difficult for this working couple and their two children. Via a friend Ewa meets an elegant and well-off woman (Anna Guzik) who finds her work behind the bar at an exotic dance club that is also a front for prostitution.
Despite her good intentions Ewa is drawn into the world of sex, and starts to act as a prostitute at the club. Her husband, unable to find any real work, struggles to deal with the new scenario. Eventually sex and violence come together in one encounter at the club, and a disheveled and distraught Ewa has to make her way homewards with a bloodied face.
Co-director Adam Sikora's cinematography is impressive, never shirking from the bleak backdrop but using a bold colour palate that helps give the working families and friends of Ewa a certain dignity despite their situation.
Production companies: Magic Production, Mastershot Studio, Piramida Film, Farat Film
Producer: Magdalena Nowacka
Cinematography: Adam Sikora
Editor: Beata Walentowska
Music: Oligerd Walicki
Main cast: Andrezj Mastalerz, Barbara Lubos-Swies, Anna Guzik, Aleksandra Poplawska, Dawid Smaczny