Dir/scr: Jonathan Lisecki. US. 2012. 89mins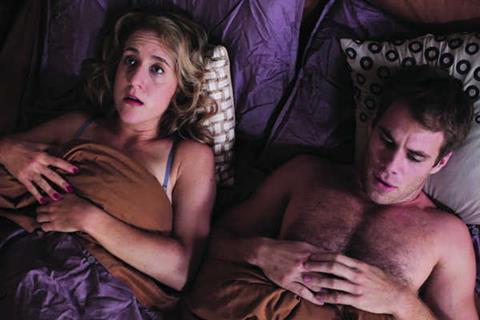 Gayby's wit and warmth twist around a now-perennial screwball dilemma – a thirtysomething woman's last-ditch scheme to get pregnant, with the aid (and sperm) of a gay friend – gives it an attractive indie edge.
Lisecki directs deftly and lightly, and spreads the jokes around his strong cast.
The playful farce (expanded from a short) lurches its way to an eventual alternative family, feeding zinger lines into everyday absurdity. Promoted right, Jonathan Lisecki's comedy, which premiered at SXSW and screened recently at the BAM CinemaFest, could tap into the gay public, the chick-flick audience of The Kids Are Alright, and a young crowd chasing the season's cleverest comedies. Gayby will have them laughing on multiple viewings, which will boost VOD after its theatrical release.
Jenn (Jenn Harris) is a desperate yoga instructor ("wait for a straight guy, in New York City?") who appoints gay college buddy Matt (Mattkew Wilkas) to inseminate her "the old-fashioned way…I don't have a turkey baster." Things get complicated when Matt, trolling gay websites, meets the square-jawed father (Mike Doyle) of a young customer in his comics store, and Jenn falls for a vain hunky artist (Louis Canselmi) who's painting her apartment. Betrayal becomes an added punchline, as does the scramble to identify the real father.
Lisecki directs deftly and lightly, and spreads the jokes around his strong cast, but Harris couldn't be better at its center as the forlorn, self-mocking and ineptly vengeful Jenn. Lisecki saves the wildest repartee for himself as Nelson, Matt's paunchy comics-clerk friend, and for a Frankenstein-ish scene in which he injects sperm into Jenn with an instrument once used on a now-dead cat.
Drab, garage-like, interiors reflect a minimal budget and dispel the myth that all gay habitat is decorated lavishly. Cinematographer Clay Liford compensates for the Slacker austerity with telling close-ups and a remarkable vocabulary of reaction shots from Harris that pull the audience into Jenn's predicament.
Production company: HubbHobb
International sales: The Film Collaborative, www.thefilmcollaborative.org
Producers: Amy Hobby, Anne Hubbell
Executive producers: Zeke Farrow, Laura Heberton
Screenplay: Jonathan Lisecki
Cinematography: Clay Liford
Editor: Ann Husaini
Production Designer: Cat Navarro
Music: Giancarlo Vulcano
Main cast: Jenn Harris, Matthew Wilkas, Mike Doyle, Anna Margaret Hollyman, Jack Ferver, Jonathan Lisecki, Louis Cancelmi, Alycia Delmore