Dir/scr: Chris Sanders, Dean DeBlois. US. 2009. 91 mins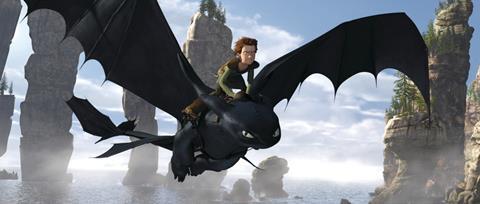 DreamWorks Animation's second made-in-3D feature is a fun if lightweight adventure comedy that flies highest when it's putting the studio's patented 3D technology to striking use. Loosely based on the novel by British author Cressida Cowell, How To Train Your Dragon will appeal most - though not exclusively - to younger boys, suggesting a performance comparable to that of Monsters vs Aliens, DreamWorks' first 3D outing, but short of the levels achieved by the company's 2D Kung Fu Panda and Shrek films.

Facing little direct competition, Dragon will have the family audience mostly to itself over the spring school holiday.
Worldwide distributor Paramount opens the PG-rated animation wide in North America on March 26 (the slot occupied last year by Monsters vs Aliens). Facing little direct competition, Dragon will have the family audience mostly to itself over the spring school holiday, though holdover Alice in Wonderland could limit the availability of 3D screens.

International openings will coincide with local Easter holidays in a number of major markets and, with its European mythical milieu, Dragon might do better outside the US than did Monsters vs Aliens, which earned less than 50% of its total internationally.

Writer-directors Dean DeBlois and Chris Sanders, who previously made Disney's hand animated Lilo & Stitch, turn Cowell's sweet and witty 2003 kids book (the first in a dragon themed series) into a boisterous action romp with as much fighting as training.

Hiccup (voiced by Tropic Thunder's Jay Baruchel), a slightly older and more smart-alecky version of the book's hero, is the bright but weedy teenage son of Stoick the Vast (voiced by 300's Gerard Butler), the hulking Viking chief of a windswept island where fighting dragons - which come in a variety of colourful species, some scary, some comical, some cute - is an everyday chore.

Hiccup is a disappointment to his dad and the rest of the Vikings (who, presumably for comic purposes, all have broad Scottish accents) because he shows none of the dragon-fighting potential exhibited by the island's other youngsters (who, presumably to up their teen-appeal, talk like California mall kids).

After Hiccup encounters and befriends an injured dragon — the Pokemon-resembling Toothless – he learns first how to fake dragon-fighting skills but ultimately how to win Stoick's respect and turn Vikings and dragons into friendly neighbours. In the process, he gets close to the object of his romantic affection, tough but pretty dragon fighter Astrid (Ugly Betty's America Ferrara).

While it has its effectively dramatic moments - the early scenes between Hiccup and Toothless recall some classic bits from ET - the story feels for the most part like a collection of familiar family movie tropes (son seeks father's respect, outsider struggles for acceptance, nerd goes for the cute girl).

The character animation, meanwhile, is on the generic side, with the young Vikings in particular looking far too much like twenty-first century teens.

Fresher and more exciting are the action sequences – some of them recalling similar sequences from Avatar – in which Hiccup learns how to ride Toothless like a flying horse. With nicely realised sea and landscapes as a backdrop (cinematography great Roger Deakins was a consultant on lighting and camera work), the sequences are satisfyingly visceral and lifelike.

Also impressive is the action finale, in which the Vikings, aided by Hiccup and his dragon-riding friends, battle the beast that lurks at the heart of the dragons' mountain lair. The giant six-eyed creature is more pre-historic monster than dragon, providing the film with a Jurassic Park-style climax that should work for dinosaur-lovers of all ages.

Production company: DreamWorks Animation

Worldwide distribution: Paramount Pictures

Producer: Bonnie Arnold

Executive producers: Kristine Belson, Tim Johnson

Production designer: Kathy Altieri

Visual effects supervisor: Craig Ring
Website: www.howtotrainyourdragon.com

Main cast (voices): Jay Baruchel, Gerard Butler, Craig Ferguson, America Ferrara