Dir: Brad Peyton. US. 2012. 94mins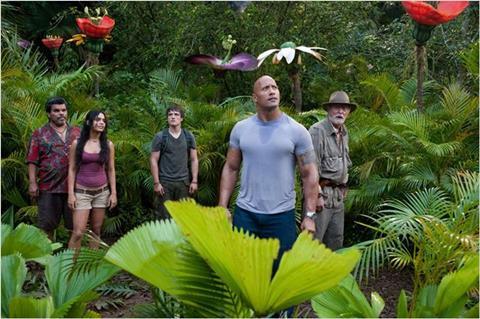 Journey 2: The Mysterious Island is a wholehearted bit of colourful and good-hearted 3D entertainment that delivers an old-fashioned fantasy adventure romp that may well be relatively mindless, but at least certainly hits the family hot spot.
Dwayne Johnson is always an appealing performer.
The casting offers something for virtually all generations – from Michael Caine and Dwayne Johnson through to Vanessa Hudgens and Josh Hutcherson (whose turn in upcoming Hunger Games could see him propelled into the teen heartthrob arena) – and the glossy locations and smart special effects point to the film being a strongish international performer.
The film is a sort-of sequel to the 2008 3D success Journey To The Center Of The Earth, which saw Hutcherson's – then – young character Sean Anderson join forces with his uncle (played by Brendan Fraser) for a journey to the centre of the earth to try and track down his missing father.
This time round he is trying to locate his adventurous grandfather who has been hunting the legendary Mysterious Island, as recounted in the Jules Verne classic. This sees him having to bond with his mother's new man (Johnson), a former Navy man Hank who (rather unconvincingly) also happens to be an expert codes…as well as being something of a man mountain.
Before you know it the pair of off to Hawaii where they charter a rickety helicopter piloted by Gabato (Luis Guzmán, essentially there for comic relief), who brings along his feisty daughter Kailani (Vanessa Hudgens, there for he crop-top and possible teen romance interest for Hutcherson). A quick crash into South Pacific vortex and they arrive on said Mysterious Island, and the adventure really begins.
This is an island replete with giant lizards, the lost city of Atlantis and – of course - Sean's adventurer grandfather, Alexander (Caine), who has made a nice home for himself on a place where there are mini-elephants and the volcano spews out gold.
There is some genial fun to be had – Dwayne Johnson and his dancing pecs or the sight of Michael Caine on-board a giant bee for example – and some dallying with the magical world of Jules Verne (though this time round the screenwriters throw in Robert Louis Stevenson's Robinson Crusoe and Jonathan Swift's Gulliver's Travels for extra value), but there is a niggling sense that director Brad Peyton is more intent on family fun than referring the world Verne created.
Verne's 1874 novel was made into the engaging 1961 film Mysterious Island, that featuredRay Harryhausen's stop-motion animation and like that version that great Verne character Captain Nemo also features here, though mainly as a device so that our heroes can make use of his legendary submarine the Nautilus as a means of escape from the island in a cracking series of effects set pieces.
Dwayne Johnson is always an appealing performer, though oddly the film never really takes full advantage of neither his comedy or action skills (and in fact makes him seem rather lumbering at times), and while Michael Caine goes for broke as always, somehow the characters all never really mesh…as if Brad Peyton is concentrating too much on the effects and not enough on his characters.
Production companies: New Line Cinema, Contrafilm
Producers: Beau Flynn, Tripp Vinson, Charlotte Huggins
Executive producers: Richard Brener, Michael Disco, Samuel J. Brown, Marcus Viscidi,Michael Bostick, Evan Turner
Co-producer: Dwayne Johnson
Screenplay: Brian Gunn, Mark Gunn, from a story by Richard Outten, Brian Gunn and Mark Gunn

Cinematography: David Tattersall
Editor: David Rennie
Production designer: Bill Boes
Music: Andrew Lockington
Main cast: Dwayne Johnson, Josh Hutcherson, Vanessa Hudgens, Michael Caine, Luis Guzmán