Dir: Rajko Grlic. Croatia-Serbia-Slovenia. 2010 89mins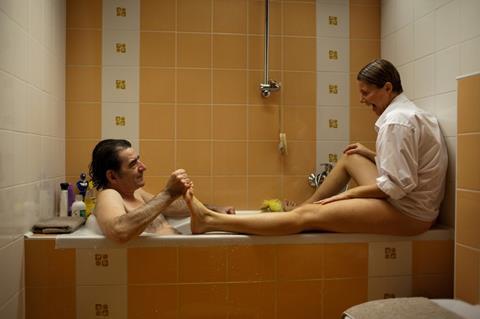 This lightweight comedy, often more significant for what it avoids saying than what it actually conveys, has veteran director Rajko Grlic, whose once potent mixtures of sex and politics offered jaundiced portraits of life in former Yugoslavia, changing his strategies.
Delivering a pretty, attractive glimpse of today's Zagreb.
He throws politics out of the window and claims the most popular sport in his native Croatia, nowadays - at all times and in all circumstances - is philandering. A bunch of over-sexed men and women are engaged in a merry-sleep-around betrayal game, reaching the conclusion that since no one is quite blameless, there is no need to lose any sleep over such irrelevant matters.
Colorful and moving briskly along, it is probably too flimsy for art houses, but likely to do well not only at home but in most Mediterranean countries. The film screened in the competition section of the Karlovy Vary Film Festival.
It goes like this: Nikola (Manojlovic), typical nouveau riche businessman (nature of business unclear), when not worried about his prostate, is frantically trying to get Anamarija (Lorenci), his legitimate wife, pregnant, while at the same time exercising his sexual prowess with every other available female in sight.
On top of which, he has a second home for pretty pharmacist Latica (Dorcic) and her son. His brother Braco (Navojec), less affluent but no less addicted to lovely young things, has been kicked out from home by his wife, Marta (Marinkovic) who is engaged in an affair with a younger man who gambles her money betting on football games.
If that's not enough, more complicated ties are unveiled in the course of the film, culminating with the discovery that Braco's lawful daughter had been fathered by Nikola before he left for the US, while Nikola's wife, once she gets pregnant, is impregnated with Braco's sperms.
Delivering a pretty, attractive glimpse of today's Zagreb, supported by a cast of sympathetic performers who feel at home with this type of material, Grlic suggests the lusty attitude to life of his characters has been in their genes forever and will probably be faithfully transmitted to future generations.
At the same time, he seems to imply that with Tito gone and the secession war terminated, his countrymen have lost all appetite for taking life seriously. Who knows, maybe he is right and maybe they're right too.
Production companies: Mainframe Productions, NP7, HRT, Studio Maj, Yodi
Producer: Igor A. Nola
International Sales: Wide Management, www.widemanagement.com
Screenplay: Ante Tomic, Rajko Grlic
Cinematography: Slobodan Trninic
Production designer: Ivo Husnjak
Editor: Andrija Zafranovic
Music: Alan Bjelinski, Alfi Kabiljo
Main cast: Miki Manojlovic, Bojan Navojec, Ksenija Marinkovic, Daria Lorenci, Natasa Dorcic