Dir: John Shank. Belgium-France-Switzerland. 2011. 103mins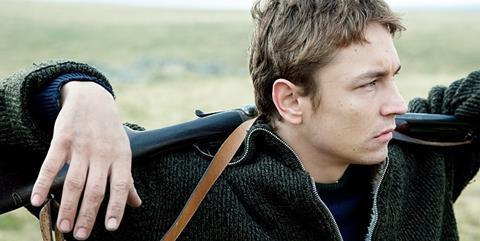 American-born director John Shank's impressively-made pastoral drama is a striking French-language debut, tracing the endeavors of a young who has taken over his father's isolated farm, struggling with the environment to retain a way of life at odds modern realities. It is a beautifully made film that dwells elegantly on the rhythms of farm life and highlights the joys and practicalities of the contemporary rural world.
Rottiers does a wonderful job as the bruised but determined young farmer.
Last Winter (L'Hiver dernier) has just the right qualities to appeal to discerning distributors and festival heads and marks Shank as a talent to watch out for. Already featuring on the festival circuit, the film is perhaps too understated to really breakout, but has art-house sensibilities to work for certain audiences.
An understated tribute to rural life, the gently powerful film is beautifully shot, making the most of its striking locations, and is punctuated by a series of subtle and fine performances.
Johann (Vincent Rottiers) inherits a cattle farm that has been in his family for generations. The work and the location are in his blood, and despite debts rising and the work harsh and unrelenting, he is determined to carry on working. As he says in the initial voiceover… "I belonged to the land…"
As farmers are so often portrayed on screen, he is a quiet, solitary, determined figure, with his passions and emotions penned up inside as he goes about his business with an introspective determination, and as things go wrong around him he still won't change the traditional ways of working – that was how his father did and it is how he will work.
Around him the agricultural world is changing – Franck (Helier Cisterne), who comes from a similar background gave up the land to work in an office, while Helier (Michel Subor), who owns a good deal of land puts pressure on Johann as he works his land in modern methods.
The drama is slow but powerful. In pastoral dramas quirks of weather and moments of bad luck always have more profound implications, and it is no different here as Johann grittily refuses to buckle to the unrelenting realities of rural life.
Rottiers does a wonderful job as the bruised but determined young farmer, and his efforts are set against a beautifully shot rural backdrop with Hichame Alaouie and Antoine Parouty's stunning cinematography capturing the harsh beauty of the winter scenes.
Production companies: Tarantula, Silex Films, Limited Adventures, PCT Cinema Television, RTS Radio Television Suisse, SRG SSR production, Solaire Films
International sales: Le Pacte, www.le-pacte.com
Producers: Joseph Rouschop, Priscilla Bertin, Elisa Larriere, Judith Nora, Pierre-Andre Thiebaud, Karin Cham, Maarten Loix
Screenplay: John Shank, Vincent Poymiro
Cinematography: Hichame Alaouie, Antoine Parouty
Editor: Yannick Leroy
Production designer: Anna Falgueres
Music: DAAU
Main cast: Vincent Rottiers, Anais Demoustier, Florence Loiret Caille, Michel Subor, Aurore Clement, Theo Laborie, Carlo Brandt, Helier Cisterne, Yoann Blanc, Carlos De Souza