Dirs/scr: Benoît Delépine, Gustave Kervern. France. 2012. 92mins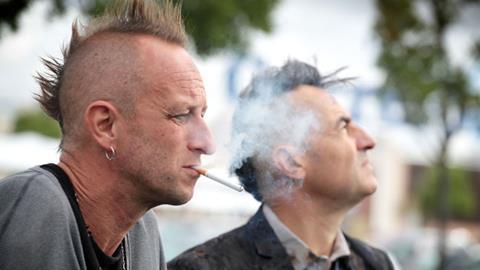 The latest film by French comic provocateurs Delépine and Kervern (Louise-Michel) could be described as knockabout farce in the name of the Revolution. Proving that you're never too old to be a punk, however ratty your balding Mohican, Le Grand Soir is the most commercial offering yet from the writing-directing duo, best known in France for their contributions to the Groland satirical TV shows.
The film has its share of brisk verbal play but the film is boisterously inventive in its visuals too.
Following their languid Gérard Depardieu vehicle Mammuth, Le Grand Soir is a much more focused and aggressive romp, and should crack up domestic audiences, thanks to the genially abrasive presence of popular faces Albert Dupontel and Benoît Poelvoorde. Exports should be healthy despite some verbal humour defying translation; luckily the visual comedy speaks its own language.
The opening shot is an extreme close-up of the lizard-like fin on the head of middle-aged punk Not (Poelvoorde), name tattooed on his forehead in ballpoint pen. Not hangs out on the streets of his town, where his parents (respected French musical duo Fontaine and Belkacem) run a cafe specialising in potatoes. Not prides himself on living outside the bourgeois order, with his faithful mutt '8-6' (who gets some of the biggest laughs growling at a cat poster).
In contrast, hyper-conformist brother Jean-Pierre (Dupontel) likes the local soulless shopping malls - for him, they're a fit place for the "up to standard" people he admires. But Jean-Pierre is in danger of losing his job as a furniture salesman, because he's not meeting sales targets, and despite last-ditch attempts to sell a 'smart foam' mattress, he's soon out of a job. At which point Ben introduces him to the joys of hardcore punk and showing a finger to the system.
Set entirely in the antiseptic corporate world of the shopping precinct - with interludes at the punk club where Benoit loves to crowdsurf - Le Grand Soir uses vividly coloured widescreen photography to invoke an oddly oppressive and absurd world, albeit one that's horribly true to daily life.
Flinging impudent grit by the sackload into this world are the two leads: Poelvoorde likeably laidback and shambling as the rebel who believes in saving his energies for moments of confrontation, while Dupontel's tightly clamped-down nerviness gradually simmers up to a manic explosiveness recalling John Cleese in his prime.
The film has its share of brisk verbal play - there's a priceless volley of distracted verbiage between Belkacem and B & K regular Bouli Lanners - but the film is boisterously inventive in its visuals too, making terrific use of the CCTV screens on which Ben's troublemaking is observed by an unseen security staff. An uproarious sequence has him striking punk poses in front of a mirrored window, not realising that he's on full view to the pizza eaters on the other side.
Legendary avant-garde chanteuse Fontaine contributes to an oddball soundtrack, and makes a fabulously mannered showing as the brothers' eccentric maman. Gérard Depardieu offers an unlikely cameo as an unreliable clairvoyant. The displays of two-fingers school-of-77 defiance may come across as infantile, but that's the point, given that the rebels in question are two middle-aged buffoons.
Production companies: GMT Productions, No Money Productions
International sales: Funny Balloons, info@funny-balloons.com
Producers: Jean-Pierre Guérin
Cinematography: Hugues Poulain
Editor: Stéphane Elmadjian
Production designer: Paul Chapelle
Main cast: Benoît Poelvoorde, Albert Dupontel, Brigitte Fontaine, Areski Belkacem, Bouli Lanners