Dir: Jean-Perre Améris. France-Belgium. 2010. 80mins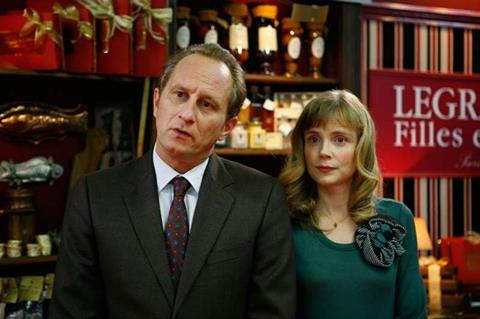 A modest, but absolutely delicious, confection packed with bittersweet humour and genuine charm, Jean-Pierre Améris' Les Emotifs Anonymes is the kind of painless little art film that folks who steer clear of foreign language fare are happy to be dragged to by a film buff friend.
Carré and Poelvoorde inhabit this offbeat romance with subtle comic skill.
This sprightly tale of two abnormally shy individuals with a shared professional interest in chocolate - neither of whom realises the other also suffers from the constant tension of heightened emotional sensitivity - deserves to get out and see the world.
For both central characters - chocolate-maker Angelique (Carré) and chocolate company owner Jean-René (Poelvoorde) - navigating the day consists of repeatedly overcoming a permanent case of stage fright. Jean-René is paralysed by the ringing of his own phone, while Angelique panics or faints when her qualities are recognized.
Unlike some other, better-known conditions and addictions (drugs, alcoholism, gambling, over-eating) hyper-emotionalism may be easier to mask. Ironically, sufferers are often mistaken for being self-assured when it's more likely they're dying a thousand deaths. Director and co-writer Améris, himself afflicted with the condition, turns clinical shyness into a source of gentle, consistently touching comedy.
Mistakenly thinking she's interviewing for a position as a chocolate maker, Angelique discovers AFTER she's been hired by sternly peculiar Jean-René that she's their lone sales rep and must drum up new customers to save the company from looming bankruptcy. A family enterprise handed down from son to son since the late 1800s, the firm's chocolate is considered old-fashioned to the point of being boring.
In a wonderful passage in flashback we learn that Angelique is an extremely talented chocolate-maker who can only create her memorably delicious wares if nobody knows they're her handiwork. This subterfuge - after all, most people don't pass out when praised - leads to situations as funny as they are original.
While Jean-René visits a shrink who gives him concrete assignments ("Invite someone to dinner") in hopes of improving his ambient sense of panic, Angelique attends meetings of a 12-step-style programme for thepathologically shy. Her fellow sufferers not only provide a cross-section of affectionately amusing timidity but also pitch in at key moments to offer suggestions that move the story in creative directions.
Angelique and Jean-René could certainly be soulmates, but when they're together neither has a clue how to communicate without being at cross purposes. When they attend a chocolate trade show together and are mistakenly booked into the same hotel room, the duo would rather take a long walk in a downpour than navigate the emotional minefield of occupying the same room.
Carré and Poelvoorde, who were first matched in Anne Fontaine's deeply serious In His Hands, inhabit this offbeat romance with subtle comic skill. Both actors shine with a solo musical number, with Poelvoorde's rendition of a Russian standard a highlight.
Jaunty faux-espionage inflected score is a perfect fit. Carefully selected locations - the vintage chocolate factory, various old-fashioned candy shops - boast a pleasantly retro yet timeless quality.
This is a film whose design elements, from costumes to the expressive faces of supporting players, seamlessly click to create a believable screen universe. Brisk running time of 80 minutes feels just right.
Production companies: Pan-Européenne, StudioCanal, France 3 Cinema,
Climax Films, Rhône-Alpes Cinema, RTBF
International sales: StudioCanal, www.studiocanal.com
Producers: Nathalie Gastaldo, Philippe Godeau
Screenplay: Jean-Pierre Améris, Philippe Blasband
Cinematography: Gérard Simon
Production designer: Sylvie Olivé
Editor: Philippe Bourgueil
Music: Pierre Adenot
Main cast: Benôit Poelvoorde, Isabelle Carré, Lorella Cravotta, Lise Mamétrie, Swan Arlaud, Pierre Niney, Stephan Wojtowicz, Claude Aufaure