Dir/scr: Heo In-moo. Korea. 2011. 108mins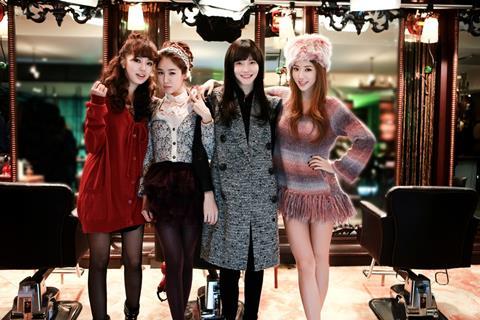 Sex And The City meets The Devil Wears Prada in this engagingly staged Korean film about four female best friends doing their best to get through the trials-and-tribulations of their twenties as relationships and friendships are hampered by such trivialities as work, shoes, handbags and ambition.
The four lead actresses are thoroughly charming and impressive in their subtly different roles.
Little Black Dress is blessed with a series of sparky and enjoyable lead performances and could easily be a candidate for a Hollywood-style re-make. It is likely not art-house enough to make it to the festival circuit.The film, which screened at the Hong Kong Market, opened in Korea recently.
The film – which is based on the novel My Black Mini Dress by Kim Min-seo – centres around four best friends, Yoo-min (Yoon Eun-hye), Hye-ji (Park Han-byul), Soo-jin (Cha Ye-ryen), Min-hee (Yoo In-na), who have recently graduated as acting majors from a prestigious university and are set to try and make their way in the world.
While men play a small part in their lives, their main attentions are focussed on work and friendship, with clothes coming an important third. Unlike the ladies in Sex And The City, this foursome are just starting their careers…and it is tough out there for them.
The vivacious and glamorous Hye-ji becomes an overnight star in adverts and commercials while the more serious and dedicated Soo-jin struggles to find acting work. Min-hee returns to school to learn English, in a bid to break into the fashion world, while Yoo-min (the most developed of the characters) dreams of becoming a television screenwriter, and gets a job as an underling for a top-name writer. Her tough-talking boss (played with zest by Jeon Su-kyeong) provides the Devil Wears Prada moments.
Hey-ji's easy route to success causes trouble between the girls – especially riling Soo-jin, whose family is going bankrupt and who can barely sustain the designer brand lifestyle the foursome aspire too – along with her poor timekeeping and apparent lack of interest in what the others are doing.
The four lead actresses are thoroughly charming and impressive in their subtly different roles. Park Han-byul perhaps gets the most attention due to her sheer glamour, but Yoon Eun-hye is especially good as a young woman trying to make her way to the job of her dreams, but who learns a few lessons about the price of ambition along the way.
It is a glossy and engaging film, nicely made by director/screenwriter Heo In-moo, who captures the dilemmas and aspirations of Korean twentysomethings with style and humour.
The joke about the 'little black dress' of the title comes with the final credits, a flashback to the girls' first day at university where they all meet for the first time. And without spoiling it, it is a very nice feel-good gag.
Production company: Tori Pictures
International sales: CJ Entertainment, www.cjent.co.kr/eng
Producers: Jang Suk-bin, Jung-hyun, Kim Woo-sang, Kim Jung-bok, Ahn Soo-yeon
Executive producer: Katharine Kim
Cinematography: Yoon Hong-sik
Editor: Ham Sung-Won
Website: www.minidress2011.co.kr
Main cast: Yoon Eun-hye, Yoo In-na, Cha Ye-ryeon, Park Han-byeol, Lee Yong-woo, Dong-ho, Jeon Su-kyeong, Lee Chun-hee