Dir: Edward Zwick. US. 2010. 114mins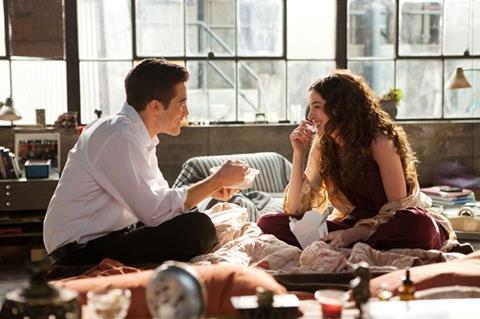 Raunchy comedy mixes with disease-of-the-week drama and a dose of social satire in Love & Other Drugs, a romance from director Ed Zwick with an unusual Big Pharma backdrop. Though the blend of elements isn't always smooth, the chemistry between stars Jake Gyllenhaal and Anne Hathaway carries the film through its tonal shifts and could help turn this Fox/Regency production into a significant box office success.
Gyllenhaal oozes charm and seems much more comfortable in this role than he did as an action hero in Prince of Persia.
After kicking off the AFI Fest in Los Angeles this week, the film opens wide in North America on November 24, at the start of the long Thanksgiving holiday weekend. The wide opening should allow Fox to make the most of the R-rated release's more marketable elements, including the stars' names and some brief but fairly steamy and revealing sex scenes.
The stars' marquee value will be especially high when the film reaches international markets in December and January: Hathaway is coming off global smash Alice in Wonderland (and solid worldwide success Valentine's Day) and Gyllenhaal is hot from international over-achiever Prince of Persia: The Sands of Time.
In contrast to comparable business-themed dramedies Up in the Air and Thank You For Smoking, the script for Love is based not on a novel but on a non-fiction book, Jamie Reidy's Hard Sell: The Evolution of a Viagra Salesman.
The Jamie (Gyllenhaal) in the film is a handsome, underachieving lothario who puts his almost infallible charm to use when he becomes a salesman for Viagra manufacturer Pfizer. When Jamie meets Maggie (Hathaway), a sassy artist with early-onset Parkinson's disease, the two start a relationship based on no-strings-attached sex. But as Jamie finds himself becoming unexpectedly attached and as Maggie's condition worsens, the relationship becomes more complex, testing each character's emotional mettle.
While there are comedic moments scattered throughout - the perhaps inevitable Viagra-side-effect gag comes towards the end of the story - the tone is lightest over the film's first forty minutes, as Jamie seduces his way into a new career and takes in his slobby younger brother (Josh Gad, from 21 and The Rocker, in one of several strong supporting performances) as a house guest.
The satire comes mostly when Jamie gets his drug salesman training, first at Pfizer HQ and then in the field from a loud and beleaguered sales vet (a funny turn from Please Give's Oliver Platt). Scriptwriters Charles Randolph (The Interpreter), Marshall Herskovitz (The Last Samurai) and Zwick take a few jabs at Pfizer and the rest of the Big Pharma industry that mushroomed in the story's late-nineties time frame.
The introduction of Maggie brings in some romcom-style banter that rarely snaps but is nicely delivered by Gyllenhaal and Hathaway.
The darker toned and fairly predictable final act sees Jamie becoming less ambitious and focussing more on Maggie and her future. Things never get maudlin - only one scene shows Maggie with debilitating symptoms - though the film does go off on a brief and slightly awkward tangent to look at how Parkinson's affects the lives of younger sufferers.
If Zwick , who hasn't handled this kind of material since his 1986 feature directing debut About Last Night, never really finds a unifying tone for the film, the appeal of the two leads is consistent. Gyllenhaal oozes charm and seems much more comfortable in this role than he did as an action hero in Prince of Persia. Hathaway has arguably the harder acting task and handles Maggie's range of moods with considerable skill, enough for some pundits to have tipped the actress as a long-shot awards contender.
Production companies: Fox 2000 Pictures, Regency Enterprises
Worldwide distribution: 20th Century Fox, www.foxmovies.com
Producers: Marshall Herskovitz, Charles Randolph, Pieter Jan Brugge, Scott Stuber, Edward Zwick
Executive producers: Arnon Milchan, Margaret Riley
Screenplay: Charles Randolph, Edward Zwick, Marshall Herskovitz
Cinematography: Steven Fierberg
Production designer: Patti Podesta
Editor: Steven Rosenblum
Music: James Newton Howard
Website: www.loveandotherdrugsthemovie.com
Main cast: Jake Gyllenhaal, Anne Hathaway, Oliver Platt, Hank Azaria, Josh Gad, Gabriel Macht