Dir: Alain Corneau. France. 2010. 106mins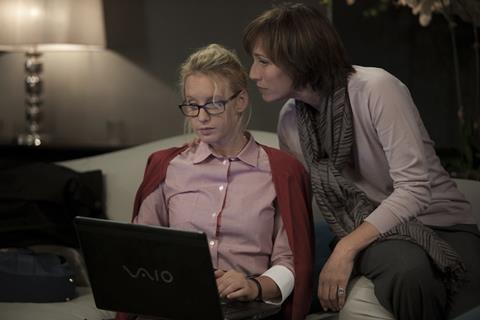 Office politics fuelled by oestrogen rather than testosterone make Love Crime (Crime D'amour) an entertaining excuse to watch Kristin Scott Thomas and Ludivine Sagnier play psychological chess as they brilliantly jockey for the upper manicured hand at the Paris branch of a multi-national agro business firm. If there's a "Women Who Are Too Smart For Their Own Good" film festival, this Toronto-bound French release would be the centrepiece.
Anyone remotely interested in Kristen Scott Thomas and Ludivine Sagnier will get a kick out of watching them interact.
Money, power, sex and murder are all components of Alain Corneau's compact tale. But the film's tone — which renders seduction, rivalry and humiliation with frosty strokes — makes the intricate proceedings seem like both a European art film and a near-universal portrait of how having an office job can be really detrimental to one's health.
Local returns should be satisfactory and the combo of Corneau, Scott Thomas and Sagnier should translate into exportability. Anyone remotely interested in these two actresses will get a kick out of watching them interact as Yves Angelo's unfussy camera hones in on slight but crafty shifts of expression.
With each subtle lift of her eyebrows, Scott Thomas convinces as a ruthlessly ambitious woman who controls hundreds of employees and hundreds of millions of dollars. Versatile Sagnier quietly excels, gulping in barely contained subservience while channelling awe.
While the mutual attraction between mentor and student is perhaps not quite as troubling as the filmmakers think it is, the process by which someone with an overriding sense of order deals with messy emotions plays out here with gratifying suspense.
Original screenplay, written by Corneau and Natalie Carter, deftly introduces everyone we need to know in the first reel. The opening scene shows mousy Isabelle (Sagnier) working with her casually stunning mentor Christine (Scott Thomas) at Christine's palatial home outside Paris, honing Christine's presentation for a crucial business meeting in Cairo the next day. Meticulous and professional Isa is thrown when Christine compliments her laugh and the way she smells before planting a kiss on her surprised subordinate's throat and insisting that Isa accept her classy scarf as a gift.
Enter Philippe (Patrick Mille), head accountant for the firm Christine runs and who also happens to be Christine's lover. Dismissing Isa, Christine's sexual attention instantly migrates to Philippe. Isabelle, whose household is as utilitarian as Christine's is luxurious (Christine has a maid to wake her in the morning, Isa has an alarmclock) is pleasantly surprised at the office when her boss announces that she'll be going to Cairo in her place… with Philippe. After Isa nails the deal in record time, she and Philippe embark on bodice-ripping sex.
Isa's young co-worker Daniel (Guillaume Marquet) urges Isa to stop letting Christine take credit for her ideas but Isa, who admires Christine to the hilt and beyond, demurs that the key to corporate success is teamwork. But when she hears Christine blithely taking full credit for every aspect of the Cairo deal, she rankles.
Christine assures Isa that her wholesale usurpation is a harmless tactic but subsequently mounts a vicious campaign of hazing, harassment and humiliation against her loyal subordinate. Well, loyal if you leave out the fact she's sleeping with the boss's boyfriend. And that she and Daniel are putting a juicy deal on the fast track without informing Christine.
When Christine turns up dead, all the not-so-circumstantial evidence points to Isabelle. But there are still 45 intriguing minutes to go, in which black and white flashbacks fill in prime blanks with dry humour.
Viewers who have become accustomed to the forensic marvels detailed on crime-themed TV shows may find the way the French police conduct their investigation quaint, but the film adds a fun wrinkle to the onscreen annals of so-called perfect crimes. Corneau's lifelong love of jazz is reflected in the spare but entrancing score.
Production companies: SBS Films, France 2 Cinema, Divali Films International sales: TF1 International, www.tf1international.com
Producer: Saïd Ben Saïd
Screenplay: Alain Corneau, Natalie Carter
Cinematography: Yves Angelo
Editor: Thierry Derocles
Production designer: Katia Wyszkop
Music: Pharoah Sanders
Main cast: Kristin Scott Thomas, Ludivine Sagnier, Patrick Mille, Guillaume Marquet