Dir/scr: Benoit Philippon. Canada-France. 2010. 104mins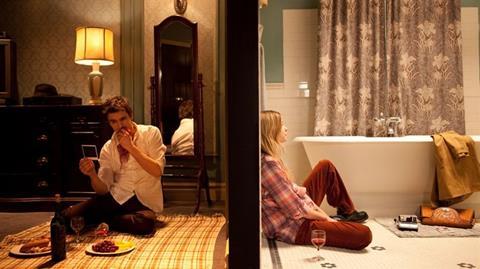 A love of old movies, a heartfelt jazz score, good retro design and a fetching name cast aren't quite enough to sustain Lullaby For Pi (or simply Lullaby, as it is know in some territories), a well-meaning exercise that yearns to be a convincing English-language film but continually lands in a sort of benign limbo for cinematic good intentions.
Cast members remain outlines for clichéd characters rather than fleshed out people.
The feature debut by French writer-director Benoit Philippon. it worships at the altar of forced whimsy, affectionately tossing together so many cloying conceits and evocative-yet-half-baked elements that the earnest venture bogs down in bittersweet excess.
Native speakers drawn in by the presence of Rupert Friend, Clémence Poésy, Forest Whitaker and Charlie Winston will scratch their heads, but forgiving European audiences may more readily accept a world - however contrived -where jazz and old movies matter, people still smoke cigarettes, and the colours are those of 1940s pulp. The characters are all so wounded you feel you should be holding a tourniquet rather than popcorn.
New York blues and jazz musician Sam (Friend, who sings well), pines for his late wife whom he met when she accidentally barged into his hotel room while he was watching Some Like It Hot on TV…cue stilted dialogue about the healing mirth of Wilder's masterpiece. Still grieving, Sam continues to visit the hotel owned by laid-back philosopher George (Whitaker).
One day, flighty artist Pi (as in 3.14, the continuation of which is tattooed in sequence around Poésy's navel) dashes into Sam's hotel bathroom and refuses to leave. In addition to the endearingly screwed up girl in his bathroom, Sam - whose day job in a quirky bookshop-cum-cafe is endangered by the owner's plan to sell - befriends a young black musician whose stern father doesn't understand his son's need to compose.
All of this is as hackneyed as it sounds yet obviously sincere. Despite valiant performances, cast members remain outlines for clichéd characters rather than fleshed out people. There's a genuine feel for nice old buildings and storied dives but no wardrobe has enough sleeves on which to wear this many broken hearts conspicuously mending.
Production companies: Forecast Pictures, Minds Eye Entertainment, Killer Films
International sales: Kinology, gmelin@kinology.eu
Producers: Jean-Charles Lévy, Kevin Dewalt, Christine Vachon
Executive producers: Fréderique Dumas, Olivier Piasentin, Yee Yeo Chang, Nicolas Manuel
Cinematography: Michel Amathieu
Production designer: Craig Lathrop
Editor: Frederic Thoraval
Music: George Acogny, Charlie Winston
Main cast: Rupert Friend, Clémence Poésy, Forest Whitaker, Matt Ward, Sarah Wayne Callies