Dirs: Robert Rodriguez & Ethan Maniquis. US. 2010. 104mins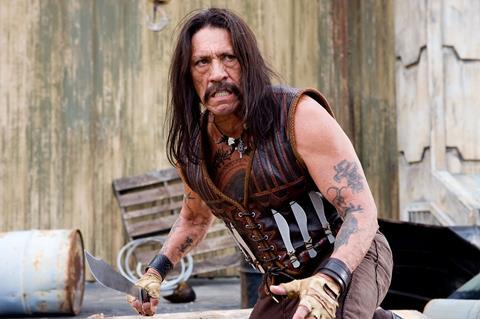 Machete is a lurid and ludicrous piece of B-movie exploitation action-adventure, packed with death, mayhem, scantily clad women, disposable villains and snarling hero who makes Stallone seem like a bit of a wimp. Its self-knowing drive-in sensibility will help it find a culty late-night audience while young Hispanic audiences will find much to cheer about, though it is unlikely to have the crossover appeal to fill the post Expendables action gap.
Sleazy and off-kilter while also attracting a strong cast who are game enough to go along with sheer over-the-top nature of the story.
Robert Rodriguez (on-board here as co-director, co-producer, co-writer and co-editor as well as providing music via his band Chingon) has a fine old time trying to keep things gritty, sleazy and off-kilter while also attracting a strong cast who are game enough to go along with sheer over-the-top nature of the story, He succeeds for much of the time, though often the overly layered story lags as you wait for the next gory action sequence.
As is well known, the origin of Machete came when Rodriguez submitted a fake trailer to form part of the film Grindhouse in 2007, creating such a fan buzz that it gathered a momentum all of its own.
But the film would not really exist if it were not for the glowering, lived-in, face of Danny Trejo, a distinctive regular in other of Rodriguez's films (such as Desperado and Spy Kids) who is given his first leading role here. His Machete may not say very much, but as a tough-as-nails anti-hero he is a brutal and powerful presence.
The film opens with Machete, a Mexican Federale intent on rescuing a kidnapped woman, captured by evil drug dealer Torrez (Steven Seagal, sporting the oddest of hair styles) and seeing his wife beheaded in front of him.
Three years later Machete is wandering the streets on the US side of the border, trying to find some work. He is recruited by the mysterious Booth (Jeff Fahey) to assassinate the local anti-immigration senator (Robert De Niro), but after handing over his payment to a group trying to help immigrants is framed for the attempted assassination in finds himself on the run.
He find help and solace in the forms of Luz (Michelle Rodriguez), who runs a taco van but also leads a revolutionary group) and Sartana (Jessica Alba) an immigrations officer torn between policing the law and doing what is right. Women just can't resist our Machete… he also shares a little quality naked time with April (Lindsay Lohan), the wild-girl daughter of Booth.
The film spirals from one action-scene to the next, culminating in Machete leading an army of Mexicans (ranging from gang-bangers to gardeners and chefs) into battle with a vigilante army led by Von (Don Johnson), who happens to be associated to Torrez, Booth and the Senator.
Danny Trejo sensibly plays the whole thing dead straight. Never smiling, Machete is a one-man killing machine (at one point disemboweling on bad guy so he can use his intestine as a rope to swing from one floor to the next), though will still deliver more than a few pithy one-liners. When asked why he hasn't been in touch, he snarls: "Machete don't text".
Michelle Rodriguez is smart, lithe and intelligently sexy as the woman who secretly runs a revolutionary army (plus can handle guns while wearing the snuggest of clothes) while Jessica Alba is nicely feisty as the law enforcement officer who is drawn to the other side. She looks a little too slight in amongst the on-screen bruisers, but her character gets more interesting as the story develops.
Robert De Niro has a fine old time as a rabble-rousing anti-immigration senator, while Cheech Marin has a splendid cameo as Machete's brother, now a priest but still happy to wield shotguns if the need arises. And it does. Steven Seagal and Don Johnson are old-fashioned caricature villains, only really there to boos and hiss as Machete goes about slicing and dicing his way through the roster of bland villains' minions.
For part of the film Rodriguez tries to replicate the scratched and juddery nature of badly made exploitations films (the subtitles are a lurid yellow), but despite the washed-out look, it feels rather half-hearted, and when Machete functions best it is as a tongue-in-cheek action romp.
The end credits announce that Machete will be back in two sequels (Machete Kills and Machete Kills Again), but whether that is a filmmakers' joke or a planned reality is unclear.
Production companies: Overnight Production, Troublemaker Studios
International sales: Hyde Park International, www.hydeparkentertainment.com
Producers: Robert Rodriguez, Elizabeth Avellan, Rick Schwartz
Executive producers: Ashok Amritraj, Edward Borgerding, Alan Bernon, Myles Nestel
Screenplay: Robert Rodriguez, Alvaro Rodriguez
Cinematography: Jimmy Lindsey
Editors: Robert Rodriguez, Rebecca Rodriguez
Production designer: Chris Stull
Music: Chingon
Main cast: Danny Trejo, Jessica Alba, Michelle Rodriguez, Jeff Fahey, Robert De Niro, Steven Seagal, Cheech Marin, Don Johnson, Lindsay Lohan, Tom Savini