Dir: Wilson Yip. Hong Kong. 2011. 101mins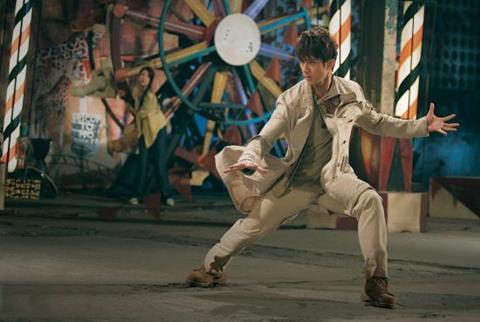 Featuring veteran producer-actor Raymond Wong and an attractive cast of younger performers, lighthearted Hong Kong fantasy Magic To Win mixes traditional Chinese motifs with elements from the Harry Potter series and other Western hits. The frenetic result may work for young Asian movie fans – on the continent itself and in international cities with large Asian populations – but is likely to have little appeal for non-Asian audiences.
The comedy is broad and physical and the sometime confusing narrative takes a long time to gel.
After its recent debut in China, the Cantonese-language film opened (with English and Chinese subtitles) in selected US cities on December 9 through China Lion, with a UK launch in London set for December 16.
Apparently inspired in part by Wong's hit eighties series of Happy Ghost films, Magic is co-written by the star's son Edmond Wong and directed by Wilson Yip, the writer-director team behind the two Ip Man martial arts films.
Wong senior plays Professor Kang, a university teacher who is also a wizard but who one night loses his magic powers to student Macy (played by newcomer Karena Ng). When Macy crosses paths with another wizard, the young and handsome Ling Fung (My Kingdom's Wu Chun), she and the professor become entangled in a five-way wizard war.
The magic effects, created by the same Korean team that worked on Yip's recent redo of A Chinese Ghost Story, are reasonably impressive though not on a par with those in Hollywood blockbusters.
The comedy is broad and physical and the sometime confusing narrative – which also involves a fantasy fiction author played by Don't Go Breaking My Heart star Louis Koo and the university's volleyball coach (played by Yan Ni, from A Woman, A Gun And A Noodle Shop) – takes a long time to gel.
The action is interrupted at one point by a pop video sequence involving Macy and the other members of her volleyball team.
Production companies: Pegasus Motion Pictures Limited, Shanghai Ee-Media, Huayi Brothers Media Corporation
International sales: Pegasus Motion Pictures, http://pegasusmovie.com
Producers: Edmond Wong, Chan Chi-Keung, Zhang Yong, Wang Zhongjun
Executive producer: Raymond Wong
Screenplay: Edmond Wong, Cheng Ching-feng, Chan Tai Lee
Cinematography: Cheung Man-po
Editor: Cheung Ka-Fai
Music: Chiu Tsang-Hei, Andy Cheung
Art director: Renee Wong
Costume designer: Bruce Yu
Fight choreographer: Jack Wai Leung Wong
Visual effects supervisor: Henri Wong
Main cast: Raymond Wong, Wu Chun, Wu Jing, Yan Ni, Karena Ng, Tonny Jan, Louis Koo