Dir: Dimitar Mitovski. Bulgaria. 2010. 107mins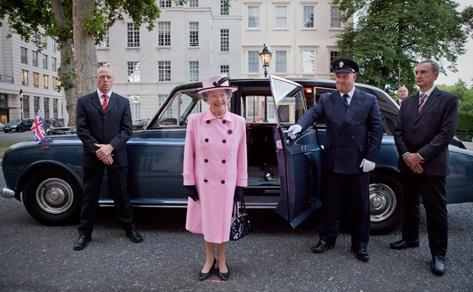 Based on the best-selling local novel by Alek Popov – who also co-wrote the script – Mission London is a broad and racy comedy that follows the trials and tribulations of Varadin (Julian Vergov), the new ambassador at the Bulgarian Embassy in London.
The film relishes its tasteless moments as it steamrollers towards its frenetic climax.
It is a blustering mainstream comedy that has become Bulgaria's highest local grosser in its home territory, taking more than $1.5 million after its first 10 weekends on release. While unlikely to make much of an impact outside Bulgaria, it remains, though, a bold attempt to make a low-brow comedy vehicle that will appeal to a local audience and hold its own against Hollywood releases.
Varadin, Bulgaria's new ambassador to London finds a leaderless embassy run by staff making the most of the unofficial 'duty free' operation run out of the basement. He has to deal with a Russian gang operating out of the kitchen that is stealing ducks from Royal Parks and is also obliged to organise a concert to celebrate Bulgaria joining the EU…plus he starts to fall for the Embassy cleaner Katya (Ana Papadopulu), who also happens to moonlight as an exotic dancer.
Things get even more complicated when Katya joins lookalike company Famous Connections as a Princess Di lookalike, and Varadin has to turn to the same company when he needs the Queen to attend the Embassy's concert. The 'Queen' (played gamely by veteran British actress Rosemary Leach) attends the bash…only for things to turn extremely chaotic.
Julian Vergov has a certain stony-faced charm as the Ambassador out of his depth in London, while Ana Papadopulu brings a tough sexiness to the role of student/dancer/Princess Di lookalike Katya. The film relishes its tasteless moments – including lookalike Di sat alongside an Arab playing a videogame involving paparazzi chasing a car through the Paris streets – as it steamrollers towards its frenetic climax. Undoubtedly local audiences have found the whole affair funny, but local comedy is notoriously hard to export.
Production companies: SIA Corp, Matrix Film, Dream Factory Macedonia, Chimney Pot, Vast Fidelity Films, Premiere Pictures
International sales: Stealth Media, www.stealthmediagroup.com
Producers: Dimitar Mitovski, Ivan Doykov
Screenplay: Alex Popov, Deljana Maneva , Dimitar Mitovski
Cinematography: Nenad Boroevich
Editor: Marko Glusac
Music: Konstantine Tzcekov
Website: www.mission-london.com
Main cast: Julian Vergov, Ana Papadopulu, Thomas Arana, Ralph Brown, Alan Ford, Rosemary Leach