Dirs: James Moore, William Spicer. UK. 2012. 78mins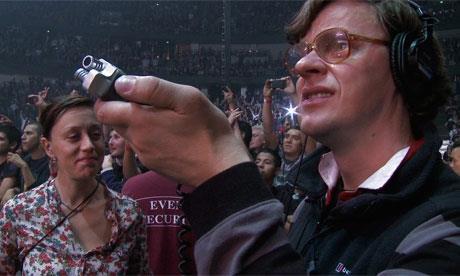 Mission To Lars is an uplifting and sweetly inspirational documentary, and is as much a story of siblings getting to know each other again as it is about the thrust of the 'mission'…a plan to get 40 year-old Brit Tom, who suffers from debilitating Fragile X syndrome, to meet his hero, Metallica drummer Lars Ulrich at a concert in the US.
Mission To Lars is a modest – and oddly very English in tone – film, but it brims with a gentle charm.
The film has had a series of special screenings in the UK, with proceeds going to charity Mencap (the film has a charity status), and with appropriate strong review-support and an appreciation of this sensitive and illuminating story it could also appeal to international audiences, with festivals a likely route.
Tim Spicer has Fragile X syndrome – described as his big sister Kate as "autism with bells on" – and lives in a care home in Devon. He is also a massive fan of heavy metal, with Metallica his favourite band and drummer Lars Ulrich his hero.
Aware that they are not as close to their brother as they once were, journalist Kate Spicer and her filmmaker brother Will conclude that a road trip to the US with a plan to get Tom to meet Lars would be the perfect way to bring them all together.
Being a well-connected pair, Kate and Tom sort flights to LA; an RV for the trip to Vegas and most importantly a contact to Lars' people which sees them access backstage passes and a promise that Lars will meet Tom.
The fly in the ointment is that as increasingly tired Kate and largely-behind-the-camera Will bicker en route it puts pressure on Tom (their parents have warned them how hard it will be for him to be out of his comfort zone) and just as a concert opportunity looms he refuses to go to the show.
A meeting with an American expert on Fragile X helps Kate and Will – she tells them that Tom finds the loud music of a concert hard to deal with – and as they repair their fractured family relationships and start to have fun, so to Tom agrees to the possibility of a meet with Lars. The deal is sealed when he wears Will's recording headphones, enabling him to deal with the noise and engage with proceedings in his own way.
An eventual meeting with Lars is delightful. He is charming and warm, the heavy metal crew around him thoughtful and engaging, and for the Spicers – and Tom in particular – it is a dream come true. Lars even manages to convince Tom to walk next to him into the heaving auditorium and stand next to the stage.
Certainly Mission To Lars is a modest – and oddly very English in tone – film, but it brims with a gentle charm as it details how against the odds siblings come together and conquer adversity. Never maudlin or cloying it equally never resorts to simplistic weepy schmaltz…instead it is honest and uplifting.
Production company/contact: Mission Films Ltd, hello@spicerandmoore.com
Producers: James Moore, William Spicer
Executive producer: Kate Spicer
Editors: Mags Arnold, Tom Herington, Ben Luria, James Moore
Music: Mike Lindsay
Website: www.missiontolars.com
With: Tom Spicer, Kate Spicer, William Spicer, Lars Ulrich